05 November 2021
Edinburgh College and partners on pathway to award success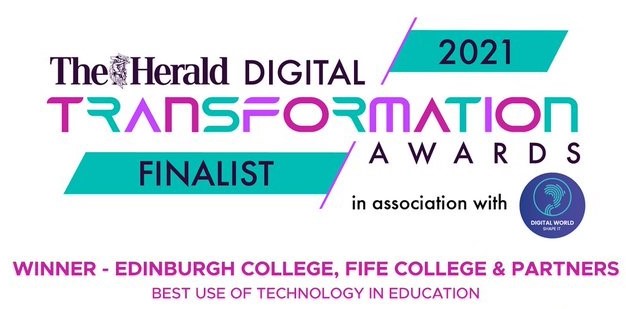 Edinburgh College and partners were recognised at a national awards ceremony last night (Thursday 4 November), which aims to celebrate digital transformation at businesses and organisations in Scotland.
The College won the Best Use of Technology in Education Award for Pathways, a new web app that can help students find their route to university through an agreed college pathway, at the Herald Digital Transformation Awards.
The app, which is part of the College's Digital Strategy, to advance data driven innovation for staff and students, was created as part the Regional Learner Passport Partnership, which includes colleges and universities across the country.
While colleges and universities already have agreed pathways which are designed to take students seamlessly from college to degree level study, the Pathways app gives students the opportunity to search agreed articulation routes and see if universities will accept their college qualifications for direct entry to second or third year of a degree.
The web app currently shows the pathways between colleges and universities in the regions of Edinburgh, Midlothian, East Lothian, West Lothian, Stirling, Clarkmannanshire, Fife, Falkirk and the Scottish Borders.
Partners included: Fife College; Borders College; West Lothian College; Forth Valley College; Newbatlle Valley College; Queen Margaret University; Edinburgh Napier University; University of Edinburgh; Heriot Watt University; University of Stirling; The Open University; SRUC (Scotland's Rural College; and University of St Andrews.
Edinburgh College Vice Principal of Innovation, Planning and Performance Jon Buglass said: "We are delighted to receive this recognition at The Herald Digital Transformation Awards for the work carried out on the Pathways project, which will provide students with an invaluable resource and enable them to choose the right pathway into Higher Education.
"Pathways is an innovative app that provides one source of information where students can find out more about articulation routes between colleges and universities across a large part of the country. The work of the partnership team behind the app has been unbelievable and I would like to congratulate each and every one of them on their achievements."
To find out more about the Pathways app, visit www.pathways.ac.uk