08 December 2022
Edinburgh College collaboration wins at the Scottish Public Sector Awards 2022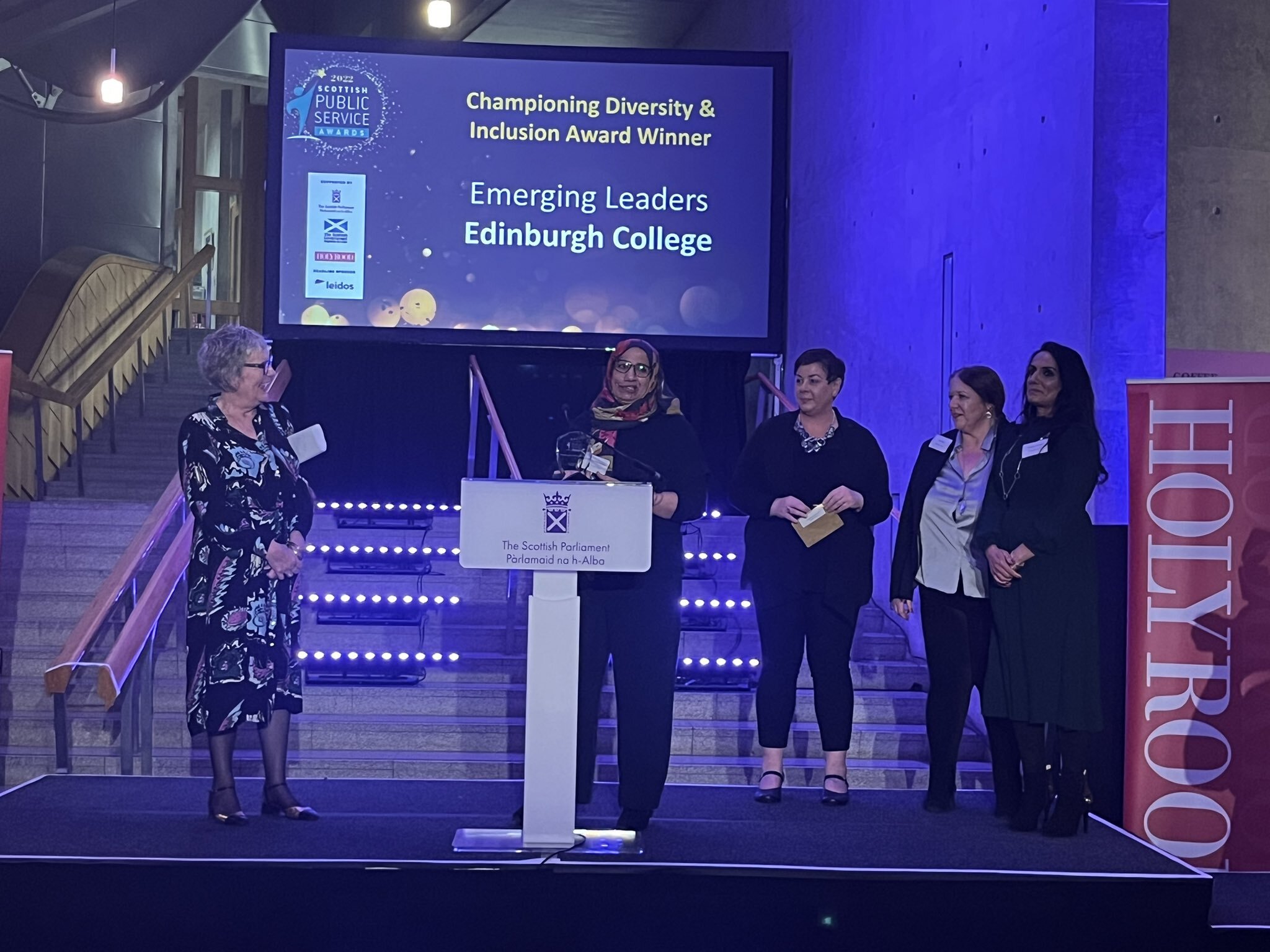 A training programme aimed at increasing diversity within Scotland's civil service created by Edinburgh College, the Scottish Association of Minority Ethnic Educators (SAMEE) and the Scottish Parliament has won a national award.
Emerging Leaders, a leadership and management training course developed and delivered by the College and SAMEE to Parliament staff, last night won the Championing Diversity and Inclusion Award this year's Scottish Public Sector Awards.
The Emerging Leaders programme supports minority ethnic employees in achieving their full potential now and in the future. It was developed in response to diversity monitoring within the Parliament, which found an ethnicity pay gap caused by a lack of minority ethnic staff in more senior positions.
The scheme also aims to ensure the Parliamentary Service more closely reflects Scotland's population by developing existing minority ethnic talent within the organisation.
The course covered fundamental concepts of leadership qualities and behaviours, recognising leadership in different professional settings and situations and how personality, values, beliefs and experiences influence leadership behaviours.
It is fantastic to have won this award, we are very proud. The collaboration with SAMEE and the Scottish Parliament has been a fantastic experience which we hope has helped to support Parliament staff to achieve their true potential.
Carole Paterson, Head of School for Professional Learning, Commercial Development, Tourism and International TVET
Congratulations to everyone involved in this award win, it is wonderful news that such an important programme has been given the recognition it deserves. As a College we are committed to diversity, equality and inclusion, and we are equally as committed to supporting our partners with professional training to ensure the region's workforce has a fair learning and working environment where we enhance opportunities for all.
Audrey Cumberford, Edinburgh College Principal