26 March 2021
Edinburgh College Students Help Dads Rock Towards Award Success
A group of Edinburgh College students have tasted award success after volunteering with a Scottish charity that provides music tuition and support to families across Edinburgh and the Lothians.
Music students Daniel Middleton, Kirsten Reekie, Lynnette Cruickshank, Callum Stevenson, Ryan Cairney, Conal McIntosh and Shuna Cook all volunteered at Dads Rock where they spent their free time providing music and vocal tutoring to children from across the city at the College's Sighthill Campus.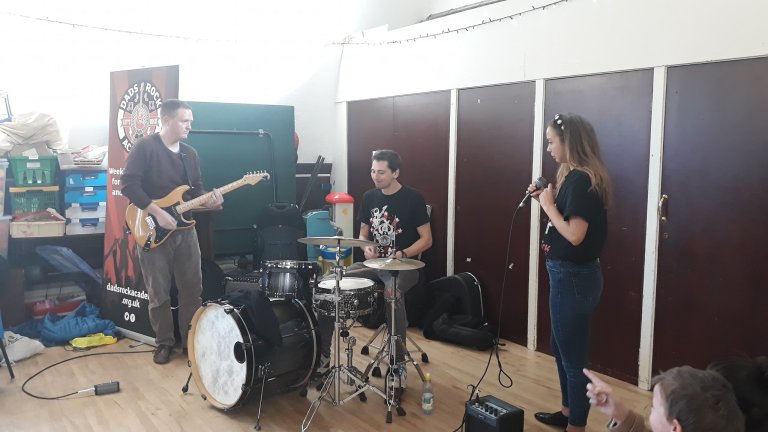 The Dads Rock project won the Outstanding Musical Initiative award at the Music and Drama Education Awards 2021, held virtually on Wednesday 24 March.
Started in 2013, Dads Rock is a Scottish charity that believes in the importance of Dads being actively involved with their children. They provide support for Dads and families from as soon as they know they will be Fathers, and want to help men understand the important role they play in their children's upbringing.
Daniel Middleton said: "I didn't fully realise the opportunity that the College helped create. I joined Dads Rock as a volunteer in its first year and was hooked by its purpose of making music tuition and performance opportunities accessible to more people. Bringing parents into the group created a new experience in music I'd never had before. Being part of Dads Rock with the support of Edinburgh College's staff and facilities as a student helped create this amazing group. To be recognised with this award shows the outstanding contributions from everyone involved."
Edinburgh College Music lecturer Annette Chapman said: "I was delighted to be able to nominate Dad's Rock Academy for this award. Apart from the great work they do with children and their fathers, I have seen first-hand what it means to our students to volunteer as instrumental and vocal tutors.  I received a message only today from a Music graduate, on hearing of their award, saying that she would not be as successful as a vocal tutor had she not had the experience of tutoring for Dads Rock. I am very proud of all the students who have given so freely of their time for this great charity. Well done everyone." 
Dads Rock service manager and co-founder Thomas Lynch said: "It was amazing to win the award, especially given how tough the last year has been on our tutors and students, it's a real testament to their determination to rock out! We've been running Dads Rock Academy at Edinburgh College since we started, most of our tutors previously attended the college, and have a real passion for helping young people and their family to make music and have fun. Winning the award is all down to their hard work."