17 January 2020
Edinburgh College Students Wow Judges During Week-Long Design Challenge
A group of Edinburgh College students recently wowed judges at the end of a week-long design challenge, tasking them to work alongside an Edinburgh-based design agency on a live brief for a real client.
The Scottish Qualifications Authority (SQA) tasked students with creating a campaign to promote their new National Progression Award (NPA) in Creative Thinking to teachers and the parents and carers of pupils in Scottish secondary schools.
The students were split into seven different teams and paired with one of the design agencies involved in the project: Neish Design, Emperor, Amaze Realize, Whitespace, Union Direct, Campfire and Lewis. Each team spent a week coming up with a campaign that would best answer the project brief, before pitching their ideas to a panel of judges from the SQA.
Team Union Direct, made up of HND Graphic Design students Rachel Platts Smith, Gonzalo Cervilla, Balazs Hirth, Zoe Willis, Valentina Torella, and Ross McGrail were announced as the winners of this year's competition for their 'Creativity is possibility' campaign that featured a number of promotional activities including a 'box of possibilities' that could be sent to secondary schools across the country.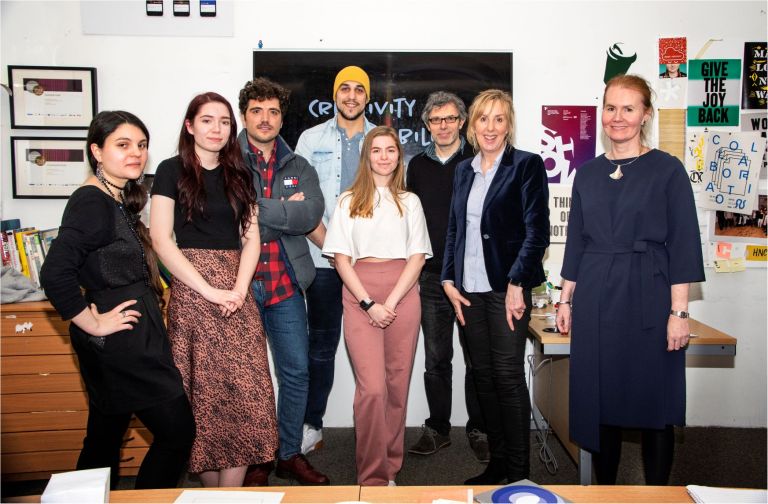 The winning team has been invited to a meeting with representatives from the SQA, where they will discuss in more detail how their ideas will be used to take the promotional campaign forward.
Team Union Direct spokesperson and Edinburgh College student Rachel Platts Smith said: "We are very proud to be named the winners of this year's competition. The key to our success was definitely teamwork – we all worked together right from the very start and knew how we wanted our concept to look and were all driven to make that idea work.
"We would like to thank our mentors at Union Direct who were there every step of the way and made this experience all the more enjoyable – we couldn't have done it without them."
Graphic Design lecturer Helena Good said: "The competition this year was outstanding, each and every one of our students should be very proud of their achievements. It's so pleasing to see the excellent standard of work produced by our students – they are a credit to the College.
"The one-week design project gives students the opportunity to work on a live brief alongside an Edinburgh-based design agency, before presenting to a real client – providing them with an insight into what it's like to work in this industry in the real world."
Fiona Robertson, SQA Chief Executive said: "Creativity is a hugely important skill and that's why the NPA in Creative Thinking is such an exciting development. I am thankful to all the students from Edinburgh College who provided an incredible range of ideas for promoting the qualification."
Martin Boyle, Head of creative, Hospitality, and Sport at SQA, added: "It was a joy to 'be the client' for the HND Visual Communication students' project. It was thrilling to see the students tackle the brief with such commitment, and creativity. The whole project has been a fantastic example of engaging creative education in practice, bringing together the college, students and industry to create something special.
"Of course, this isn't just a theoretical exercise. We hope to be in a position to be able offer our NPA in Creative Thinking to schools and colleges across the country, and utilise the work of team Union Direct in our activities.
"The standard of work the students presented was genuinely exceptional. I look forward to hearing more about their progress, and I'm confident that there are some real stars in the making on the course."