01 September 2022
Five stars for EC – Edinburgh College scoops five nominations at 2022 CDN College Awards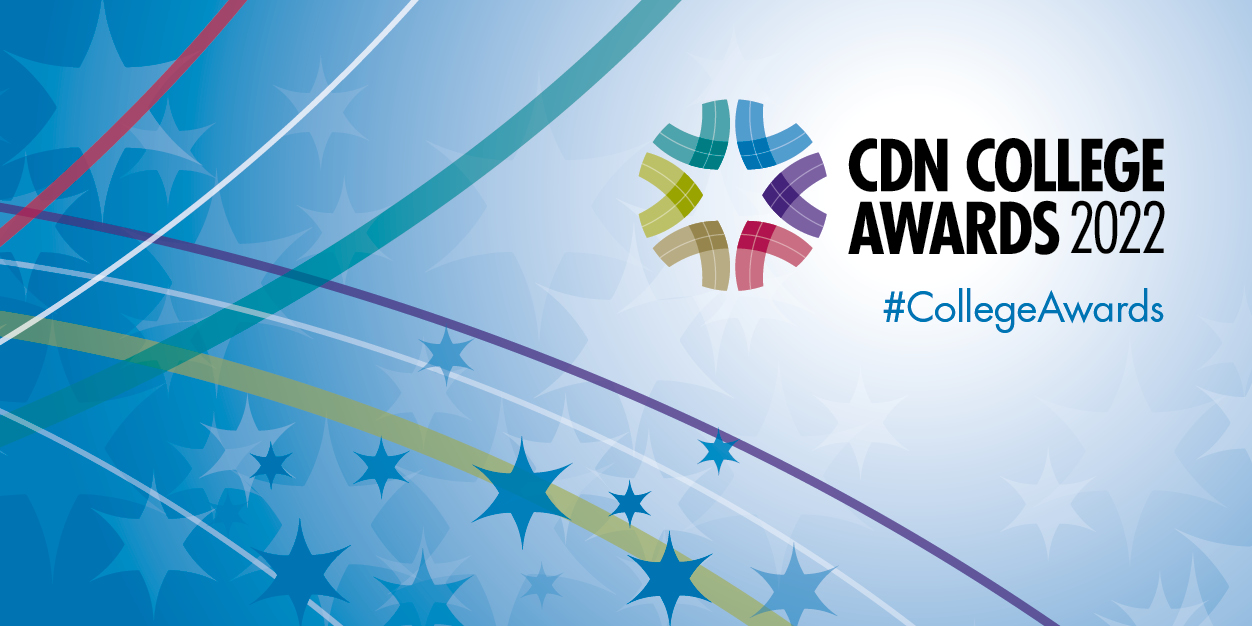 Edinburgh College has claimed five nominations at the 2022 CDN College Awards – more than any other college in Scotland.
The College has been shortlisted in four categories including Digital Learning, Inclusive College, Skills Development and Sustainability Action in recognition of outstanding work from staff and students throughout academic session 2021/22.
The innovative and diverse projects involved in the short-listings span across the curriculum and have involved working with industry partners and external stakeholders to ensure the best possible outcomes for students and staff.
Digital Learning
Call to Action – Inspired by an idea to reimagine education by using new technology, Performing Arts lecturer Clara Bloomfield organised a project that would help students expand their learning experience through digital collaboration. Through this project students had the opportunity to partner up with their counterparts from the other side of the globe to work together on exploring their identity and then using those conversations to inform theatre performances that would be shared globally online through the Call to Action website.
Virtual Reality (VR) Dementia Programme – Working in partnership with experts in the technology industry (Cadpeople), the College utilised VR within its Digital Care Hub to introduce a unique learning experience for students studying across health and social care courses, that would enable them to develop their skills and understanding of working with people suffering from dementia.
Inclusive College
Anti-Racism at Edinburgh College – In 2021/22, the College took steps towards realising its ambitions of creating a culture where everybody is equally valued and respected and where diversity is celebrated. In 2021/22, building on previous work, the College introduced a number of initiatives. It became the first Scottish college to affiliate with the Black Leadership Group and managers undertook a four-part 'Let's Talk About Race' training course exploring difficult conversations around racism and effective allyship,. The College also celebrated one year since the inaugural meeting of its Anti-Racist Unity Group (ARUG), a staff group which champions the College's commitment to racial equality.
Skills Development
Access Data Project: Data Skills – Life, learning and work – As part of the Data Skills Gateway programme, Edinburgh College and Access to Industry collaborated on the Access Data project to co-deliver a data skills progression route, mainly through the National Progression Award (NPA) in Data Science (SCQF levels 3-6).
The Access Data project supports unemployed people in Edinburgh and those on a low income to recruit individuals who have an interest in developing digital and data skills and progressing towards data jobs.
Sustainability Action
Sustainable EC – throughout 2021/22 the College and Edinburgh College Students' Association (ECSA) have further engaged students in Sustainability through the introduction of Sustainable Education Week and ECSA's Go Green project.
The winners of the 2022 CDN College Awards will be announced at a celebration ceremony at Radisson Blu in Glasgow on Friday 25 November.
Edinburgh College Principal, Audrey Cumberford said: "We are delighted to have received five nominations at this year's CDN Awards. It is a wonderful achievement, especially considering the high quality of work we see across all of Scotland's colleges. I am very proud of our students and staff and my thanks go to those involved in these short-listings, the work they put in on a daily basis is tremendous they all fully deserve this fantastic recognition. Well done to everyone.
Edinburgh College Principal, Audrey Cumberford