22 June 2023
Simon has dreams of opening his own restaurant as he leaves College after incredible five-year journey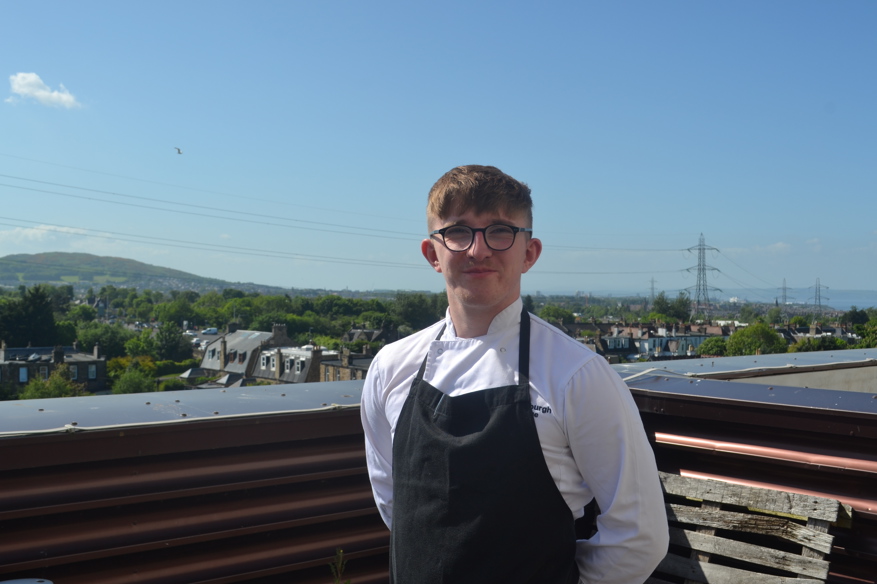 An Edinburgh College student has dreams of one day working as a head chef and opening his own restaurant as he comes to the end of his five-year journey at College after joining while still in high school in 2018.
Professional Cookery SCQF Level 7 student Simon Perkins started his journey on the NPA Professional Cookery SCP course as a fifteen-year-old and is now leaving College after five years, having developed his knowledge and honed his skillset at the College's EH15 Restaurant.
Simon said: "I left school at 16 and my mum said I better have a plan. I was a bit of a clown at school, but came to College full-time to follow my passion for cooking. It's been an amazing journey – I started in the schools group with my lecturer Chris Cockburn and I'm now finishing my final year at College specialising in Patisserie and Confectionary with Kellyanne as my lecturer.
"There was a time when I was in the school group where I was still acting like a bit of a clown, but Chris pulled me in to his office and told me straight that if I kept going the way I was, I wouldn't finish the course or progress on to the next one – that was a day I'll never forget and ever since then everything clicked in my mind and I've tried to be the best I can be."
Most recently, Simon was one of 20 young chefs selected out of hundreds of applicants from across the UK to compete in Nestle Professional's Torque d'Or competition in London, where he was tasked with creating a recipe for a sustainable seafood dish, before making and presenting the dish before competition judges.
Simon said: "My recipe was a trout dish that used cauliflower three different ways to ensure there was no wastage. I baked the trout and had a cauliflower crumb, puree and used the stock to show my skill for using every bit of the produce to its maximum, finishing it with a smoked butter sauce and some fresh langoustines."
The nineteen-year-old has had many highlights during his time at College, which include cooking with the Scottish National Culinary team at Tynecastle Park, cooking at events at Prestonfield Hotel, travelling to Luxemburg with the Scottish National Culinary team, and living in Dinard, France as part of a class exchange to learn about French culture and cuisine.
Simon discusses his time at College and prepares one of his favourite dishes, brined and baked fresh Scottish salmon fillet, with elderflower-infused pomme purée, foraged sea herbs from East Lothian's coastline, wild garlic oil, puffed quinoa and elderflowers.
During his five years at College, Simon has also worked part-time at the Ducks Inn in Aberlady, East Lothian where he perfected his craft under the guidance of four different head chefs working his way up from kitchen porter to his current role as a Junior Chef de Partie.
Simon also has goals of travelling the world to learn new skills and experience different cultures, with an offer already on the table from a chef based in France, who he met during the class exchange trip to Dinard in 2022, for him to live and work with him for three months.
In recognition of his achievements in his final year, Simon was also awarded Outstanding Student 2023 for Professional Cookery and Hospitality at the College's annual Prize Giving ceremony last week – an outstanding achievement that further evidences his success this year and throughout his journey at College.
Simon said: "I've been at College longer than I was at High School – it's been such a huge part of my life and even though I'm a little bit sad to be leaving, I'm excited for the future. I want to give thanks to all my lecturers – they've been amazing throughout my time at College and their support has been priceless. In future, I would love to own my own restaurant somewhere in Scotland making good seasonal food using the best local produce and just be happy."
Professional Cookery and Hospitality curriculum team manager Steph Tanner said: "Simon has had an amazing journey at College, he is a dedicated student with a great attitude who is always looking to learn more. It's been amazing to watch him grow into the talented chef he is today and we are so proud of everything he has achieved this year and throughout his time at College.
"Simon has come so far in his five years at College and while we are a little sad to see him go, we know he is going to go on and have an amazing career in this industry and on behalf of everyone in our department, we would like to wish him the best of luck for the future!"
You can follow Simon's journey via his Instagram page.