10 January 2020
Three Nominations for Edinburgh College at TES FE Awards
Edinburgh College has received three nominations at the UK's largest national Further Education awards.
The College has been named a finalist in three categories at this years' TES Further Education (FE) Awards – an event which celebrates the successes of colleges and further education providers from across the whole of the UK.
Helena Good, a graphic design lecturer who has worked in education for more than 20 years, has been named as a finalist in the teacher of the year category for her major role in the creation of the Daydream Believers programme. Daydream Believers is a collaborative project led by the College and industry aimed at embedding creativity skills at the heart of education, across the whole curriculum. In addition, Helena has also mentored students to national awards success in the past year.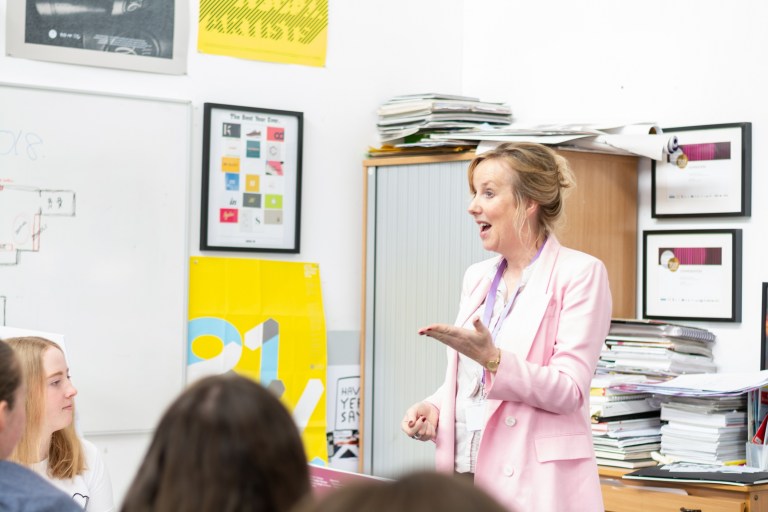 Helena Good
The College's Automotive Engineering team has been shortlisted in the best teaching and learning initiative category following the team's partnership with the Scottish Motor Racing Club and Knockhill Racing Circuit. Introduced in March 2019, the partnership saw students convert a Citroen road car into a race car fit for track action at the Scottish C1 Cup held at Knockhill.   Students also provided race day car maintenance alongside their lecturers, giving them their first experience of working in the world of motorsport.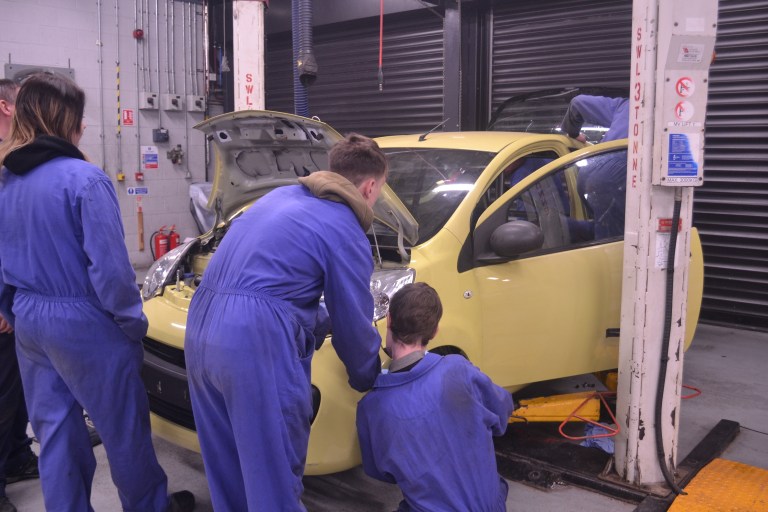 Students rebuilding the College's Citroen C1 ready for racing
The College's third nomination comes in the apprenticeship programme of the year award, for which its Foundation Apprenticeship (FA) team has been shortlisted. The team worked relentlessly in 2018/19 to boost the number of FA enrolments and ensure the learning needs of pupils are met while satisfying the requirements of employers as they seek to nurture the future workforce.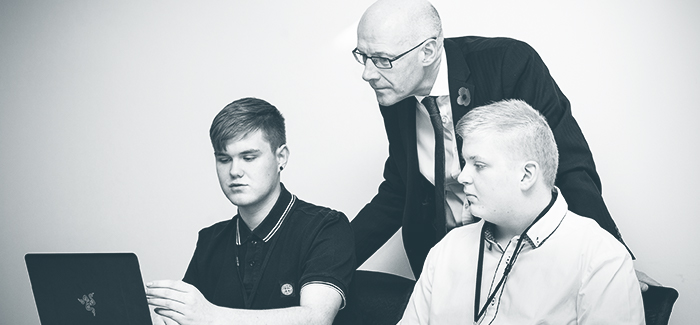 Foundation Apprenticeships Douglas and Michael with Deputy First Minister John Swinney MSP
Principal Audrey Cumberford said: "To be nominated as a finalist in 3 categories of the UKs TES awards is a significant achievement and reflects the commitment and ambitions of the staff teams involved. There is a common and hugely important theme running through each of our entries and that is our relationship with industry partners. Students and pupils studying on these programmes are immediately exposed to the world of work. 
"I am very proud that our College teams are dedicated and passionate about making a difference and providing our students with the very best experience and opportunity to be successful. These nominations are a brilliant recognition of that.
"I am so delighted. Congratulations and good luck to our finalists."
TES FE editor Stephen Exley said: "Excellent practice exists right across the further education sector, and those shortlisted for the TES FE Awards are the cream of the crop. Our judges were extremely impressed with the calibre of entries. To be shortlisted is an extraordinary achievement." The winners will be announced at a ceremony being held in London on Friday 20 March. Good luck to all of our finalists.