21 November 2023
VR Dementia Experience wins bronze in major national awards programme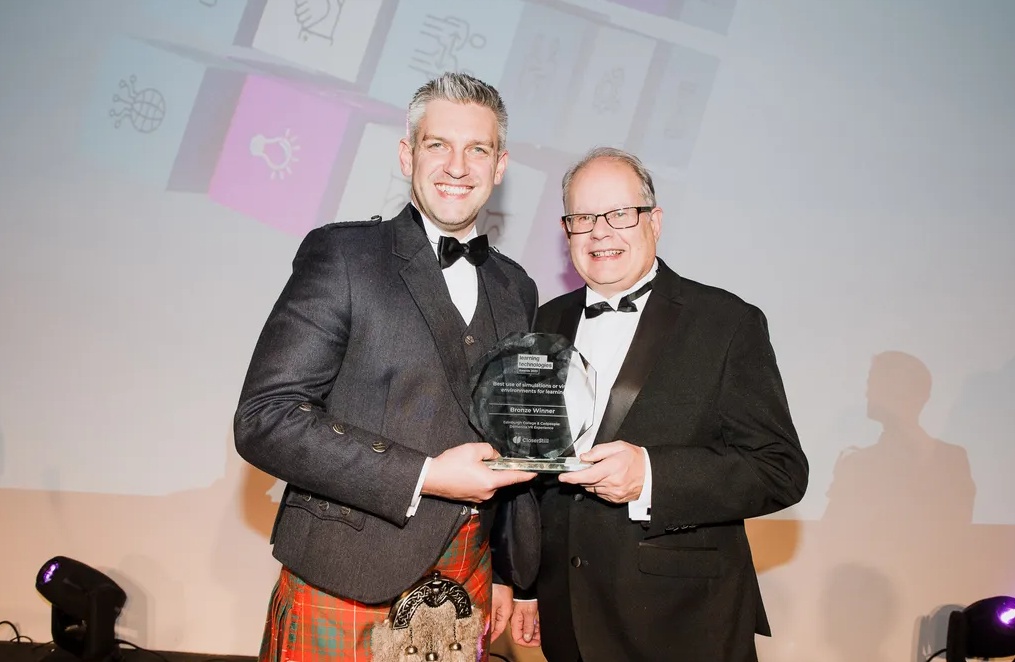 Edinburgh College and Cadpeople have won a major national award following the success of its ground-breaking virtual reality (VR) dementia initiative.
The College and learning technology experts Cadpeople were recognised in the 'Best use of simulations or virtual environments for learning' category at the Learning Technologies awards held in London last night.
The awards celebrate the commitment, enthusiasm and passion for learning technologies across the world – with large organisations including Vodafone, Dell Technologies, University of Edinburgh, NatWest, Volvo and many others among the finalists this year.
This huge recognition for the College and Cadpeople is a reward for the innovative joint project which sees health and social care students use virtual reality (VR) technology to prepare them for working with people with dementia.
The unique learning experience allows students to see the world through the eyes of someone living with dementia, enabling them to experience hallucinations, patterns and lines coming alive around them, and memory loss – some of the typical effects of the condition – through their headset.
By immersing students in the reality of a person living with dementia, the VR programme gives students a unique insight into the practical care that is needed for people who have dementia, whilst also providing them with a more engaging learning experience that will set them up for a successful career in care.
Huge congratulations to our Digital Care Hub team and Cadpeople on this incredible award. Everyone at our College is extremely proud of our work alongside Cadpeople to create this VR Dementia programme which is changing the lives of our students as well as those living with dementia and their families. It is fantastic to see this project being given its due recognition at such a prestigious awards ceremony.
Jon Buglass, Vice Principal
We are over the moon to have been given this award alongside Edinburgh College – it is a real milestone and honour to be recognised at these awards. At Cadpeople, our passion is to use learning technologies to make a real difference, and this VR Dementia programme is supporting people every day – which is something we are very proud of. I hope our partnership with Edinburgh College can lead to further success and continue to make a difference to people across our communities.
Sean Bruce, Business Development Director, Cadpeople