14 June 2018
Erin Was Always Geared Towards a Career Working With Cars
From a young age, Erin Mclean has been surrounded by cars and after moving from one coast to another to build herself a career in the industry she's grown up with, she's already winning awards.
Stranraer-born Erin moved to the capital last year to begin studying the IMI Level 1 Diploma in Light Vehicle Maintenance and Repair course. Now she is the recipient of the Academic Excellence Award Automotive at this year's Edinburgh College Prize Giving Ceremony.
She will collected her prize last week at the annual event, which celebrates the college's further education (FE) students who have demonstrated exceptional ability and commitment throughout the college year.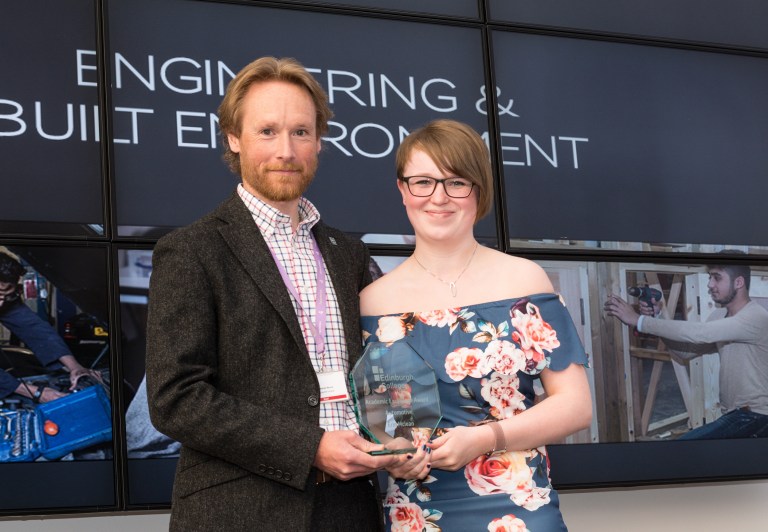 "It was such a shock receiving the email informing me that I was going to be getting an award", said Erin.  "I am so grateful to have been chosen – it's really amazing."
Curriculum leader for automotive engineering Sandy Bruce said: "Erin has demonstrated an outstanding level of commitment to her course over this academic year. Her enduring focus on quality and consistency has ensured her course work has been completed to a very high standard in both theoretical and practical areas.
"It has been wonderful to see Erin evolve from a relatively quiet and unassuming young student to a figure projecting strength and confidence amongst her peers. Erin's hard work and diligence is commendable and I see a bright future as she progresses through the next chapter of her college life."
Erin's entry into the automotive world came at a very young age as her family was heavily involved in the industry. Coming to college to learn about them seemed the natural career choice for the 17-year-old after leaving school.
"My grandfather used to restore cars and always took me round car parts shops, so I guess from then I was hooked and knew that I wanted to learn to be a mechanic.
"I decided to move to Edinburgh as the course was exactly what I was looking for. As well as that, the facilities the College offers were amazing.
"Since then, I've realised how different college is from school. To me it's more relaxed atmosphere which has allowed me to get lots of work done. I've also really enjoyed meeting everyone in my class. I always look forward to the days in the garage working on the cars."
"The main highlight of my experience here so far has been realising my potential, growing in confidence and to trust more in my own abilities.
Erin is returning to college next year to start the next stage of her diploma, IMI Level 2 in Light Vehicle Maintenance and Repair, and hopes that will lead into an apprenticeship or full-time employment.
Describing her Edinburgh College in three words, Erin said: "Amazing, enriching and fun".