16 October 2019
Jack Looking to Orchestrate a Future in the Music Industry Following College
A student from West Lothian is preparing for a career in the music industry after attending Edinburgh College for the past three years, and graduating with a BMus (Hons) in Music.
Twenty-one-year-old Jack Mackenzie from Livingston attended College to get the experience and qualifications needed to help him pursue a career in media composition – writing music for film, television and video games.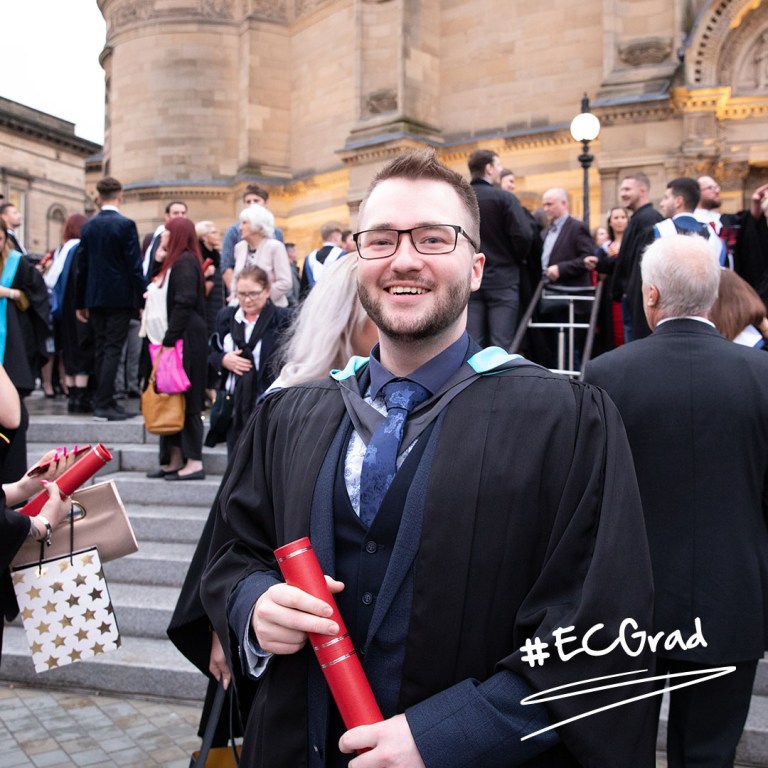 The former West Calder High School pupil said: "Graduating is quite scary but exciting at the same time. Because of the nature of the degree (3 years instead of 4), I'm one of the first in my high school to graduate with a degree, so that's pretty daunting, but there's lots of things to look forward to.
"Edinburgh College was actually recommended to me by my student support officer Brian at high school. I always wanted to study music, but I was unable to gain access into university as I lacked in piano skills. To think I could've been studying Product Design and Manufacture instead – I owe a lot to Brian for his recommendation and help."
As well as departing with a BMus (Hons), Jack also leaves the College after being shortlisted for Student of the Year at the annual CDN (College Development Network) Awards which will take place in November.
Jack was nominated for the award after he dedicated himself to transforming the fortunes of the College's orchestra which faced being dissolved at the time, and inspiring students across the curriculum in the process.
Fueled by his passion for music, Jack decided he could not let the orchestra fold and took over leadership of the group. Despite the many challenges facing him, Jack managed to propel the orchestra to become a mainstay of the College's Music department, leading it to successful performances all over the country.
 "Initially, we struggled to gain a lot of support for the orchestra as it was thought to be a lost cause. I am thankful that we were given these issues however as I believe that a drive to prove people wrong was what made it so successful in the end."
Edinburgh College Music and Sound Production curriculum leader Laurie Crump said: "Jack is a real inspiration to all of our music students, they all see how much hard work and passion he has put into his time at College. Under Jack's leadership the College's orchestra reached new heights of success and his legacy will last for years to come."