12 June 2018
Prize Giving 2018 - Rory Whyte
Rory Whyte decided to come to Edinburgh College as it was the closest college to him that offered the Highers he needs to go to university. After a successful year, Rory was awarded the Student of the Year Travel, Tourism & Modern Languages Award at this year's Prize Giving ceremony. We caught up with him about his experience at Edinburgh College.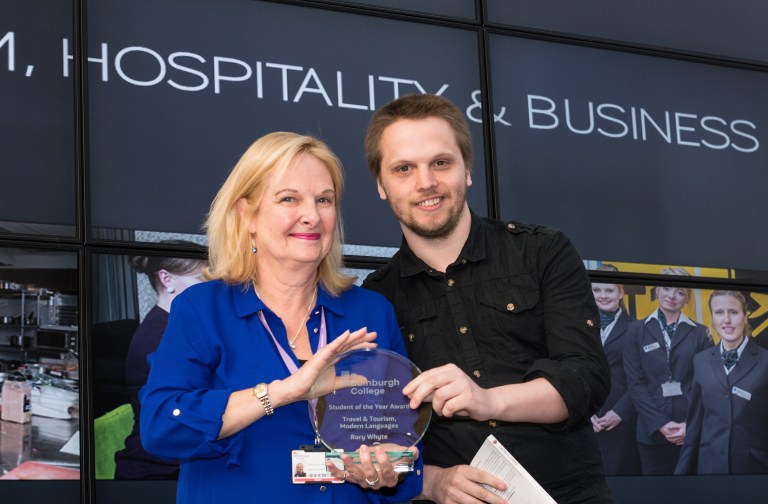 How do you feel about being recognised at Prize Giving?
I feel honoured. I've worked extremely hard this year and it means a lot that the college has taken notice.
What made you choose Edinburgh College for your studies?
Nowhere in Dundee offered Higher Spanish outside of High School, and I needed an A at Higher for my university application. I did look at other options but, ultimately, I was attracted by Edinburgh's reputation and facilities.
What were you doing before starting at the College?
I'd been working in fast food for several years. Returning to college this year has been the first step in reeducating myself.
What has been the best thing so far about studying at Edinburgh College? Any highlights?
The paninis. World class.
Have you faced any challenges, either before starting or during your studies? How did you overcome them?
Living in Dundee, the main challenge was commuting between the two cities, especially as I have been studying in Dundee too. For example, on Tuesdays I'd have mathematics in Edinburgh from 2-4pm, then English in Dundee from 6-9pm. This was the only way I could take four Highers and an A-Level at the same time. Luckily, the trains and trams have been extremely reliable all year and I've been able to make nearly every class.
If you could give one piece of advice to a student starting at the College now, what would it be?
Focus. It's more useful to study for 10 minutes with absolute concentration than to study for one hour with one eye on Facebook. Train yourself to study like this every day, and eventually the habit will stick. Trust yourself.
What are your plans for the future?
Thanks to the kind recommendation on the part of my Spanish tutor at the College, I've been lucky enough to receive a conditional offer to study Interpreting with French and Spanish at Heriot-Watt University. Languages have become my passion, and interpreting has been my goal since returning to education.
Do you have any messages for the lecturers?
Thank you.
Looking back, is there anything you would do differently?
Definitely have significantly more paninis.
What are you most proud of that you have achieved while studying at Edinburgh College?
This award, of course! Also that time a bird landed on my shoulder in Haymarket. It made me feel like Snow White.
Describe your Edinburgh College experience in three words.
Worth the trip.
What does his lecturer say?
Languages lecturer Jordi Pitarch-Marquino said: "Rory is the quintessential FE student. Like many others who choose to study at FE, Rory had been out of education for some years before coming to Edinburgh College. During this year he's been working to complete five Highers to apply for university, studying them across three colleges, and has been obtaining very good results in all his assessments. Rory is expected to achieve As in all his subjects come August. Therefore, I can't see a better candidate for this award than Rory."