13 June 2019
Mary Goes Above and Beyond to Support Fellow Students
A local grandmother has been named Edinburgh College Development Trust's FE Student of the Year for her work in going above and beyond in supporting her fellow students, at the College's annual student Prize Giving ceremony.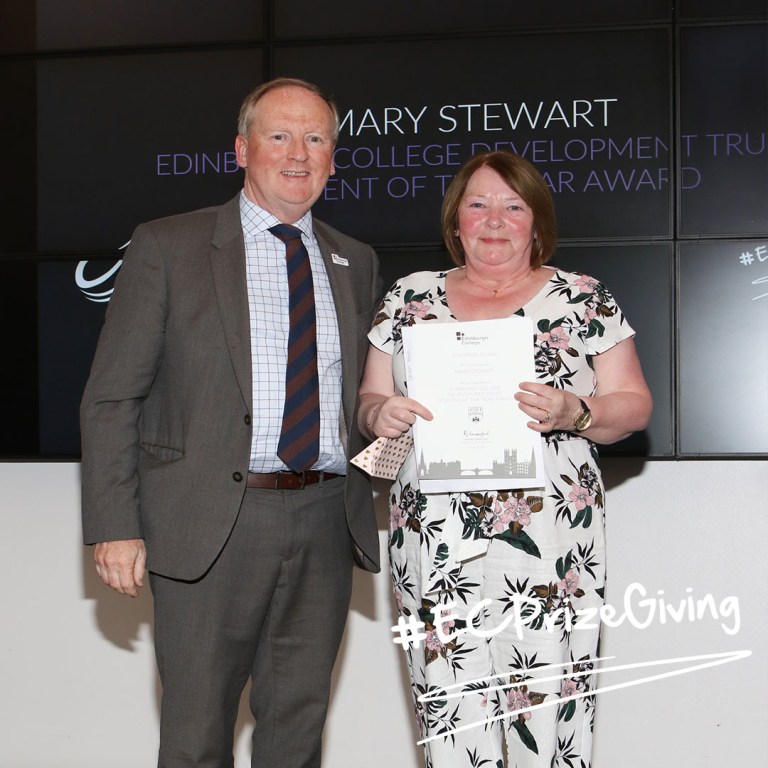 Sixty-year-old Preparation for Study in Social Sciences student Mary Stewart from Musselburgh was awarded the Edinburgh College Development Trust FE Student of the Year Award for her Student-2-Student project which involved her writing more student-friendly versions of the College's policies to help her peers better understand the rules and procedures.
The award, sponsored by the Edinburgh College Development Trust, the independent charity which supports students at the College, recognises a student who has gone the extra mile to support and encourage their fellow students during their time at College.
Mary is also part of the Belonging project which involves members wearing visible rubber bracelets around their wrists so that other students can see they are a member of the project and can be approached if they require help. Members of the project listen to the students before pointing them in the direction of the people or service that will provide the student with the correct support.
The Belonging initiative is a pilot project started by the College's Health, Wellbeing and Social Sciences team where students support other students in a non-judgemental manner by being a student friend.
Mary has been studying at the College's Milton Road Campus for the past year after taking the decision to return to College so she can pursue her dream of gaining a degree and going on to work in the voluntary sector.
Mary said: "I still find it very surreal that I am receiving an award. It was not something I was aiming to achieve when I started the Student-2-Student project, but I'm really happy to be recognised. I initially thought it might be quite strange to come back to College at my age, but it was the exact opposite – the only person who seemed to care about my age was me.
"I have worked in the social care sector for many years, but a few years ago I had some health issues which meant some days I would struggle with the physical work. This led me to the idea of coming back to College to undertake this course and it's been fantastic – I've thoroughly enjoyed every moment."
"My advice for anyone thinking about starting college is to stay open-minded as education can change your life. Do not let the fear of the unknown stop you, as the experience will make you a stronger person.
"My end goal is to progress onto University and graduate with a degree level qualification. Voluntary work is something I have done before, and I would really like to get back into it and help wherever I can be of service."
Chair of the Development Trust Dr Allan Colquhoun said: "Mary has gone out of her way time and time again to help and support her fellow students, whether that be through the Belonging project or helping to develop student-friendly copies of the College's policies. She epitomises what the Development Trust stands for and is very deserving of this recognition. I'm proud to be able to present Mary with this award, and wish her the very best for the future."