03 October 2018
Mum of Three Jenny Isn't Done With Education Yet
44-year-old Jenny Anderson came to college in 2017 after having spent years raising her three children. Now she graduates with a HNC in Social Sciences and says her education journey isn't over yet. Read more about Jenny's Edinburgh College experience.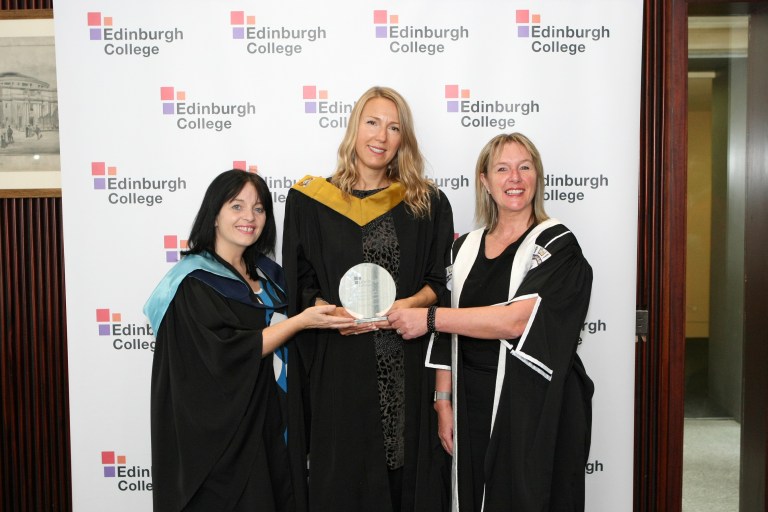 How do you feel about being recognised at Graduation?
I think being recognised for an award is uplifting and helps to inspire others.
What were you doing before starting at the College?
Before studying, I was taking time out to care for my three children
What has been the best thing about studying at Edinburgh College? Any highlights?
I would say the best thing about studying at Edinburgh College is getting to meet other like-minded people that share a passion for my subject choice.
Have you faced any challenges, either before starting or during your studies? How did you overcome them?
Having spent years looking after my children it was always going to be a challenge fitting three kids around studying, but having learnt a good study ethic, putting my social life on hold for a while, and having an amazing partner who supported and encouraged me along the way, was key to achieving my goals.
What are your plans for the future? 
My plans for the future are to further my studies, I have a keen interest in children's mental health and counselling, and having achieved the Award for Academic Excellence in Social Sciences, I am confident I will go on to achieve this. I'm having a few months off with my children and plan to continue my studies in the new year.
Do you have any messages for the lecturers?
If I were to give a message to the lecturers I would say that positive constructive feedback is so important to the students, as it helps them build a realistic picture of how they are progressing, enabling them to push forward to the next level.
What are you most proud of that you have achieved while studying at Edinburgh College?
Whilst studying this course, I would say I was most proud of achieving an A in my Graded Unit Project as I felt this was reflective of the passion I felt to deliver and achieve all aspects of wellbeing for my case study/service user.
Describe your Edinburgh College experience in three words.
Three words to describe my experience at Edinburgh College would be: uplifting, challenging, and motivational.