12 June 2020
SCP Student Jee-Hoon Song Recognised at Prize Giving
Eighteen-year-old Jee-Hoon Song is really proud of his efforts at College so far this year, and has been awarded the School College Partnership (SCP) Play and Child Development Award at this year's Prize Giving in recognition of all this hard work.
We spoke to the Queensferry High School pupil to find out more about his college experience and plans for the future.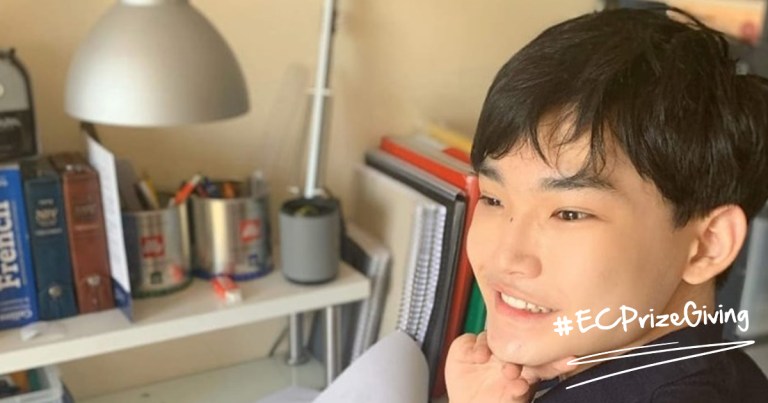 "I didn't expect to get this award at all. I feel really proud of myself for achieving the prize after working diligently throughout the year. This couldn't have been done without the support of my teachers, friends and family so I'm very thankful towards them all.
I picked Edinburgh College as I thought it would be the perfect place for me to develop real, practical skills – especially in my chosen field of childcare – and get ready for the world of work. I also felt that it would be a great place to meet new people who share the same goals as mine, and since the people I've met so far have all been so welcoming, I definitely think I made the right choice. I'm really looking forward to starting full-time from September.
Above all, I've really enjoyed working with my lecturers, and communicating with the friendly people in my class. The content of the course has been really interesting as well since it is totally different to what I learned in high school, and I can't wait to continue with it.
The most difficult challenge I have faced during my studies was moving to distance-based learning due to the lockdown of Covid-19. For example, whenever I got somewhat stuck on my coursework I couldn't ask for help in the same way as I did in class. However, I overcame it by sending emails and communicating with my lecturers frequently – it was hard adapting at first, but I've gotten used to it now.
Looking into long-term goals, I would like to find a job (ideally in childcare) where I can effectively use the skills I learnt in college in the future. I would really like a part-time job in the meantime so that I can reach this goal.
I would like to thank my lecturers above all for teaching me about childcare – since this is normally not taught in high school it was really interesting, and the lecturers made it all the more fun. I would also like to thank them for the support they have shown me. I'm autistic and tend to learn in a different way, but they were still very accommodating of me and helped me learn at my pace. They definitely helped me in achieving this prize, so thank you! I'm incredibly proud of having come this far. I'm also proud of going beyond high school in order to try out new skills, look to future opportunities and adapt to a new learning environment. I've been told that this is not a common feat for autistic people like me, so I'm really proud of my college experience, and have positive thoughts for the future."