17 November 2021
Skye is Determined to Pursue a Career in Sports Science
HNC Fitness Health and Exercise student Skye came to Edinburgh College after high school and is preparing to head to the US to start a scholarship in 2022. We caught up with Skye to find out more about her College experience and plans for the future.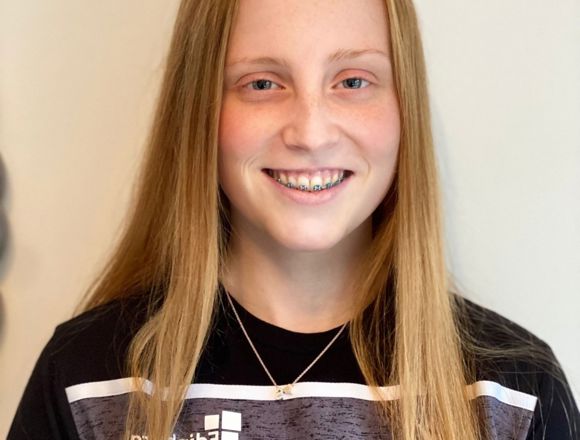 About Skye
Age: 17
Studying: HNC Fitness Health and Exercise
Interests: Football 
College experience in three words: Enjoyable, nerve racking at first and fun!
Skye has had an interest in sports and fitness from a young age and has played football since she was six years old. It was this passion for sport, and interest in sports science, that led her to apply for a course at Edinburgh College and seek out an opportunity for a scholarship through Global Sports Recruitment. 
While studying our Level 5 Exercise and Fitness course, Skye found out she was going to get a scholarship to the US in 2022 and was hoping to complete the HNC course before starting this amazing opportunity. Skye was determined to do this, so completed her Level 2 Gym qualification externally while completing the Academic Study Skills unit within College at the same time as her Level 5 units. This has allowed Skye to jump up to the HNC Fitness Health and Exercise this year. 
This is an impressive achievement for the seventeen-year-old and shows that Skye's dedication, determination and passion were a recipe for success.  
Before coming to College, Skye was at High School but didn't really enjoy it, so had no doubts that College was right for her. It hasn't been without it's challenges though. When speaking about her challenges, Skye said: "I would say I am quite an introvert so when it comes to doing group exercise where I have to teach a class it's hard for me and definitely takes me out of my comfort zone." 
When thinking about the future, Skye is excited to be starting her scholarship in the US to pursue her passion for sports science. Skye shares more about the process:
"I signed up for the scholarship through the Global Sports Recruitment website in January 2021 and they got back to me straight away! As it was in strict Covid-19 times, they could not have any trial matches so could not see me play in person. Instead they arranged a Zoom call where I sat down with my parents and they asked about my academics and how my football has gone so far. I explained that I wanted to do a HNC at Edinburgh College and they were very keen for me to do that. Straight after the call they offered me a place and since then I have played two client matches that have all been posted online for coaches in the states to watch. I have a showcase event where coaches from America are coming to Edinburgh to watch!"
Skye believes that her time at College has helped prepare her for taking this next step. Since starting at College, Skye has said that her family have noticed a difference in her.
My family have noticed a real difference in my confidence since starting College. It's given me a lot more independence and responsibility.
Skye McLean
When speaking about her time at Edinburgh College, Skye said: "All the lecturers are lovely people and really helpful which has made my experience at College a lot easier. They have been really encouraging for me going for my scholarship and have all offered me a reference. My classmates are all really nice and helpful people, everyone gets along." 
For anyone thinking of coming to College, Skye offers some advice: "Don't stress too much about assessments, just take them one at a time and if you fail there's always going to be a second chance! And also, don't leave everything to the very last minute." 
We wish Skye all the best with her HNC and scholarship and can't wait to see what she does next! 
Are you determined like Skye? Browse our courses and start studying in January.