06 May 2020
College Helps to Feed Vulnerable People During COVID-19 Lockdown
Lecturers and chefs from Edinburgh College's Professional Cookery and Hospitality team have teamed up with a local initiative to provide meals for vulnerable people across the capital.
Lecturers have been preparing meals at the College's Eh15 Restaurant in partnership with Empty Kitchens, Full Hearts to support those across Edinburgh who can't make a trip to the shops themselves or are unable to cook hot meals every day.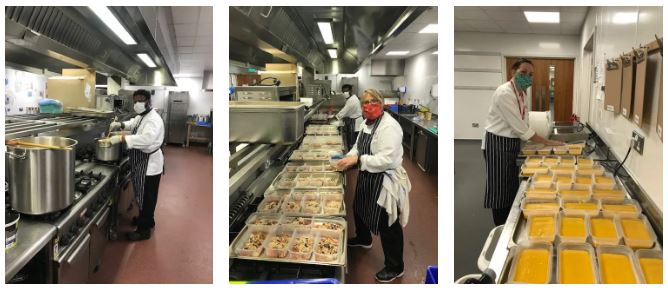 A team of lecturers, working on a rota basis, have implemented safe working practices in the Eh15 kitchen to ensure social distancing measures are in place at all times, allowing them to batch cook nutritious meals which are then delivered to homeless people in temporary accommodation and others who are vulnerable.
The team plans to make 100 portions of homemade soup, 100 main courses and 100 desserts, three days per week – with a collection being delivered each day, ensuring those in need are receiving a fresh and healthy meal.
Lecturer Robin Austin said: "Once we heard of this opportunity to open our kitchen up and cook hot and nutritious meals for those who need them, we got to work on making adaptations to our kitchens so that we could start supporting our local communities.
"Throughout lockdown it's been heartening to see people and community groups coming together to help each other and vulnerable people, so we wanted to do our bit and help as many people as we can."
Principal Audrey Cumberford said: "I'm immensely proud of our Professional Cookery team. The team is providing a wonderful service to help vulnerable people in our communities in these exceptionally challenging times. I'd like to thank them for their determination and brilliant community spirit in getting our Eh15 kitchen back open to help others during this crisis.
"Our thanks also go to our Security and ISS teams who have supported the reopening of the Milton Road kitchens."