04 March 2020
Launch of New Edinburgh College Project Proves to Be a Hit
The launch of a new Edinburgh College project has proved to be a hit after it received thousands of views online and was played live on BBC Radio Scotland.
Scottish band The Moon Kids were the guests for the launch of Feast Sessions – a new project featuring performances and interviews with a variety of local artists.

The launch took place at the end of January, and since then, the first performance has been viewed over 6,000 times on one of the College's YouTube channels, and was featured live on Billy Sloan's BBC Radio Scotland show which aired at the beginning of February.
The Feast Sessions are live lounge style performances featuring a variety of Scottish artists, all recorded in a studio at the College's Milton Road campus.
Former Edinburgh College student and artist-in-residence for Music Business and Sound Production Ashley Stein, the brains behind the project, uses her contacts in the music industry to book the acts, and the College's Music Business, Broadcast Media and Sound Production students work on the recording and editing part of the project, with the aim of gaining experience working on a live production, whist giving a platform to local artists.
Ashley said: "We are always looking for ways for our students to gain industry experience as part of their course. By creating the Feast Sessions and making them student-led, we are providing an opportunity for professional development as well as allowing students the space to develop the skills and knowledge required to succeed in the industry. We have some incredible artists lined up for future sessions and can't wait to share them over the coming months."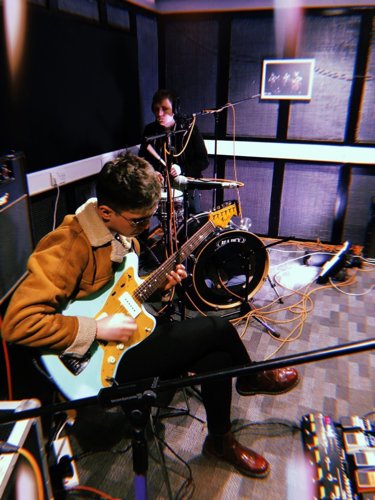 The Moon Kids, performed a cover of The La's Timeless Melody, before original songs Enemy, and Life's a Beach. Afterwards, songwriter and lead singer David Barr and guitarist Connor Whyte sat down with HND Sound Production student Nicai Cruz where they discussed their music careers up to this point, including how the band got their name, how they got into music, and what they have planned for the future.
David Barr said: "When we first started, we struggled to come up with a name. At the time, we were watching the 1970s film The Warriors and thought it would be cool to make up a name that fitted with the film. We thought if we made up a gang in that film, what would it have been called, and it was The Moon Kids that we came up with, so it just stuck.
"None of us are properly trained musicians or anything like that, we just kind of picked it up from listening to records and learning on our own. When we first started learning, I wasn't one of those guys who would try and learn other people's music. As soon as I knew a couple of chords I was writing songs, and it was more the creative aspect that caught my heart.
"We will release an album at some point, but at the moment it's just working. Put singles out, until you feel you're ready to release an album – we've got the songs there, but when we feel the times is right, and the audience is big enough then we'll put an album out."