01 October 2018
A Career at the Top Beckons for Carlos After Winning the James Thomson Award for Hospitality
An Edinburgh College graduate is looking forward to a career at the pinnacle of the hospitality industry after receiving an award from one of Scotland's best-known hotelier-restaurateurs.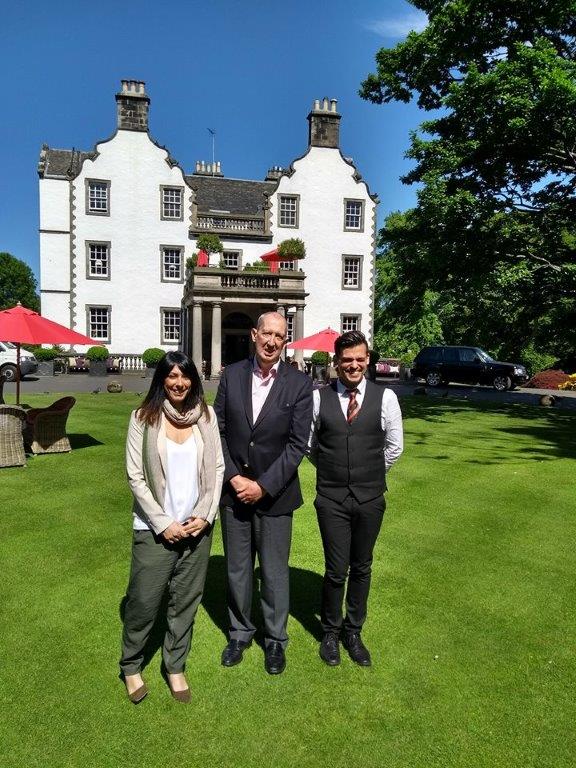 Thirty-three-year-old Carlos Herrera, who graduated with an HND in Hospitality Management at Edinburgh College's ceremony on Wednesday 26 September, is this year's recipient of the James Thomson Award for Hospitality after wowing James and a panel of judges during an intense interview at the five-star Prestonfield House.
Carlos and a fellow classmate visited the Edinburgh hotel to be put through their paces – being quizzed on various hospitality scenarios by James and colleagues from his portfolio of restaurants – The Tower and The Witchery by the Castle, as well as showcasing their hospitality career experience to date.
The prize for Carlos is a visit to The Ritz in London where he will stay overnight and spend time working with the hotel's front of house team – picking up valuable work experience in a prestigious London hotel.
Carlos said: "It's amazing to have been given this award from James Thomson, it feels really special. It was a brilliant experience to go to Prestonfield House, such a luxurious setting where service is second to none, and be interviewed by James and his team.
"I can't wait to head down to London. To visit the Ritz will be amazing, but to work in it will be surreal – I'm certain it will be an experience I never forget."
James Thomson OBE said: "I'm thrilled to present Carlos with this award, he is a very deserving winner who showed he has much to offer the hospitality industry in the future.
"It was not an easy decision for us to reach as we had two outstanding finalists however we were very impressed with everything that Carlos has in his career to date – he was absolutely fantastic. We all wish him every success with his future studies at Edinburgh Napier University and we'll be following your career with interest."
Carlos' immediate future remains in education, he has moved from the college into year three of International Hospitality and Tourism Management at Edinburgh Napier University. For the second trimester of his course, Carlos will fly to Mexico to complete a placement at the Gran Flamenco Xcaret resort in Riviera Maya.