03 October 2018
Commitment Pays Off for Hard Working Seb
Thirty-two-year-old Sebastian Stadelmeier moved to Edinburgh from Poland in 2012 and came to Edinburgh College in 2015 and now graduates with a HND in Human Resource Management.
Seb also leaves with a Principal's Award for Academic Excellence in Business after consistently scoring highly in his graded units and completing a CIPD course alongside his HND. Read more about his Edinburgh College journey.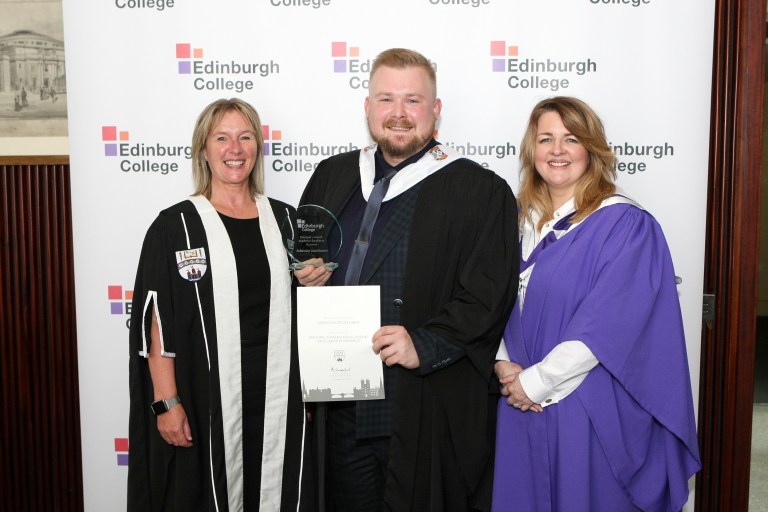 How do you feel about being recognised at Graduation?
I feel really privileged to receive the Prize. It makes me feel proud and proves that hard work pays off.
What were you doing before starting at the College?
I worked in hospitality in management roles.
What has been the best thing so far about studying at Edinburgh College? Any highlights?
The best thing about college – Lecturers – definitely!! Especially Lorna, Valerie and Jane. Great source of knowledge and experience and great level of support
Have you faced any challenges, either before starting or during your studies? How did you overcome them?
When I studied I was working at the same time, and I have decided to study CIPD at Edinburgh college during evening classes at the same time! I was very busy, but the lecturers were very flexible and supported me a lot!
If you could give one piece of advice to a student starting at the college now, what would it be?
First things first – choose the course that you find interesting. Work hard and aim for the best results, as that will pay off in the future.
What are your plans for the future? Are you going on to further study after college or into employment? What is your end goal?
From studying at Edinburgh College I have moved straight to MSc HRM course in Napier University. I started working in HR when I was studying for my HND. My plan is to finish my Masters and then find suitable employment that will correspond to my interest and qualifications.
Do you have any messages for the lecturers?
Keep doing what you are doing, as you have a huge impact on people. Thank you for being supportive and inspirational.
What are you most proud of that you have achieved while studying at Edinburgh College?
I am proud about my Graded Unit projects and that I managed to finish the HND and CIPD at the same time.
Describe your Edinburgh College experience in three words.
Great, developing, fun
Seb's lecturer said that: "His enthusiasm and personality has enriched everyone whose path he has crossed."