08 February 2019
Edinburgh College Student Trains at the Royal Conservatoire of Scotland
An Edinburgh College student recently attended a five-day technical theatre training course at the Royal Conservatoire of Scotland in Glasgow.
HND Technical Theatre and Production Arts student Laura Laria was awarded a place on the ABTT (Association of British Theatre Technicians) Bronze training course for Theatre Stage Technicians, after winning a competition organised by the Scottish Drama Training Network (SDTN).
SDTN funded Laura's place on the training course, which aims to give participants knowledge and understanding of best practice, whether they are working in regional rep, touring, multiart form studios, community theatre, the West End or as a freelancer. We caught up with Laura to find out about her experience at College and how she found the course.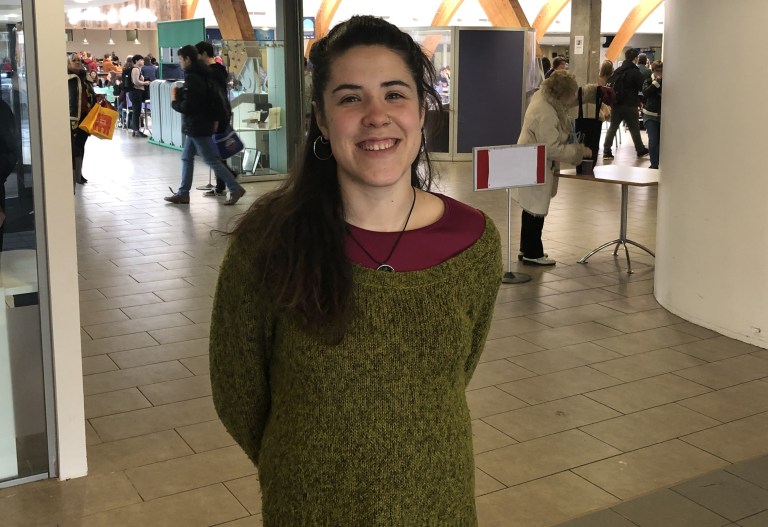 How old are you and where are you from?
I am 26 years old and I am from Cuenca, a little town in the centre of Spain.
What made you choose Edinburgh College for your studies?
I picked Edinburgh College because I found the specific course about Technical Theatre that I was looking for.
What were you doing before starting at the College?
Before College, I studied a Fine Arts Degree and a Set Design Postgrad in Spain. I then worked in Edinburgh for a year before the start of my HND.
What has been the best thing so far about studying at Edinburgh College? Any highlights?
The best thing about my course at Edinburgh College is that it's a very practical course. They teach us some theoretical classes but most of the time, we are at the PASS Theatre practicing with the control boards, rigging lights and building props. Working hands on is the best way to learn!
Have you faced any challenges, either before starting or during your studies? How did you overcome them?
We always face challenges, the point is to focus on the aim and to work hard to not lose our motivation. One of the big problems when studying a full-time course is to find the time to work to live in Edinburgh and manage to have a little bit of social life. Everything is a matter of good organisation and despite sometimes feeling stressed, it's worth it.
How did you feel winning a place on the technical theatre training course?
It was a great surprise to win. I was really interested in the course, but couldn't afford to pay for it. I applied with no real expectations, so it was a fantastic surprise when I received the email saying I had won a place.
What made you apply for the technical theatre course and what did you get out of it?
I was interested in attending the theatre training course because I wanted to increase the knowledge that I've learnt at College. I love knots and flyings and those were the two main subjects on the course, so I couldn't wait to get involved.
How did the training course go? Did you enjoy it?
It was fantastic, I really enjoyed the week and I learnt a lot of concepts, procedures and new techniques that I will be able to use in my future career.
What are your plans for the future? Are you going on to further study after College or into employment? What is your end goal?
My plan is to successfully finish the course and after that I will try to find a job in the industry.