03 October 2018
Ewa Is On the Road to Achieving Her Dream Job in Events
Ewa Adamczak came to Edinburgh College to study HND Events Management to help her achieve her goal of working at the top of the events industry. She leaves not only with her HND but also as the recipient of the Chair's Award for Academic Excellence in Tourism and Hospitality given at Graduation last month. 
Before coming to Edinburgh College, 30 year old Ewa from Poland was a full-time mum to their daughter. We caught up with Ewa to find out more about their college experience.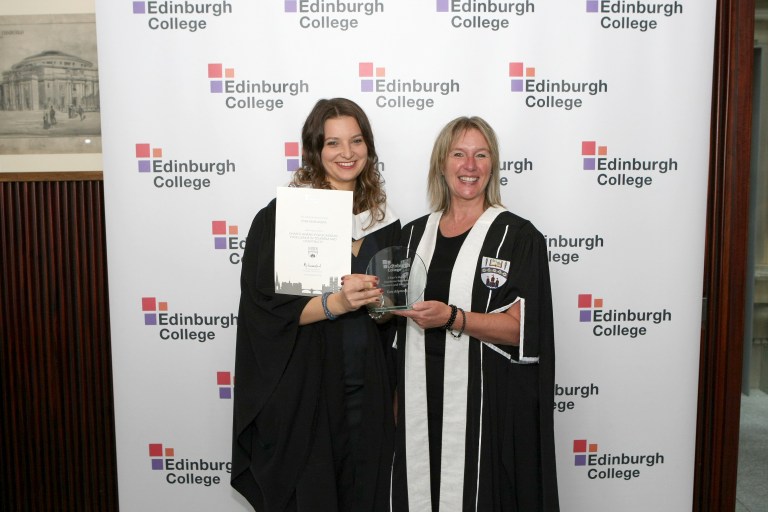 What made you choose Edinburgh College for your studies?
I chose Edinburgh College because the information provided on its website was in-depth. It offers a variety of courses. Lecturers share their knowledge and experience with students. Everyone is treated fairly. We are given support at every stage of the course
Have you faced any challenges, either before starting or during your studies? How did you overcome them?
It was difficult to juggle different tasks at the same time. I was studying, working and organising my family life. I just had to try harder and organise my time more efficiently and effectively.
If you could give one piece of advice to a student starting at the college now, what would it be?
Don't postpone things. They have to be done eventually. It is better to do college stuff when you are not stressed about missing the deadline.
What are your plans for the future? Are you going on to further study after college or into employment? What is your end goal?
I am planning to find a job in the events industry. My final goal is to become a professional event organiser and use every occasion to learn something new and interesting from other people.
Do you have any messages for the lecturers?
I am really grateful for their commitment, support and attention. They are amazing people and it is a pity I finished my course because I will miss them. I really enjoyed studying there.
Looking back, is there anything you would do differently?
I would not have changed anything. I made mistakes but it was beneficial because I have learned from my mistakes.
What are you most proud of that you have achieved while studying at Edinburgh College?
I was able to organise two successful charity events and raise a great amount of money for charities. I developed my skills and was capable to tackle every task given to me. I showed my knowledge and experience gained while working on the Graded Unit.
Describe your Edinburgh College experience in three words.
Challenging. Rewarding. Social