01 October 2018
Marta Is Edinburgh College Development Trust's First He Student of the Year
A HND Hospitality Management student has been awarded the first ever Edinburgh College Development Trust Higher Education Student of the Year Award, after spending much of her time at the college fundraising to support children and adults with disabilities.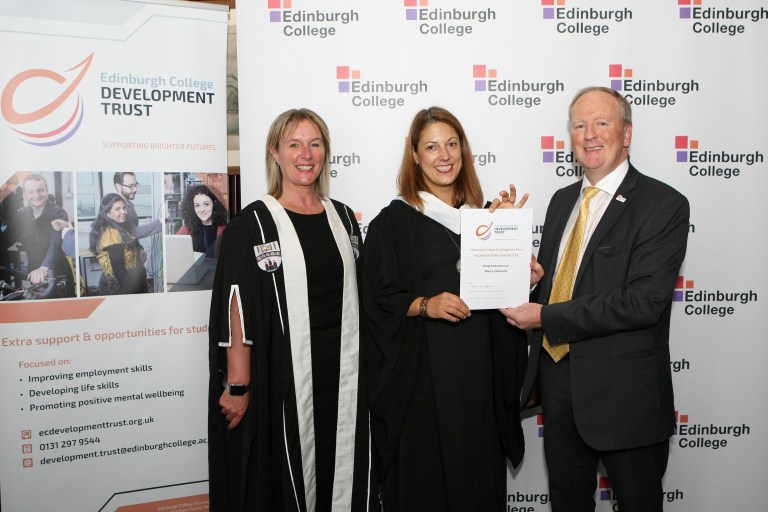 Thirty-four-year-old Marta Villacorta came to Edinburgh College in January 2016 after spending time working in five-star hotels in London. She decided to join the College to complete her Hospitality qualifications which would allow her to progress in what is a fast-paced and thriving industry.
During 2017/18 Marta has worked tirelessly to raise £2000 for Phabkids, a UK-wide charity, which provides children and adults without disabilities with a range of support services aimed at making their lives easier.
Much of the money was raised by hosting a fundraising dinner at the college's eh15 Restaurant. After months of planning and organising, Marta then marketed the event by producing her own marketing materials, asking various staff and students to get involved with serving, working on the bar, face-painting, cooking and more.
Marta asked those in attendance to donate how much they thought the night was worth as well as running a raffle which was helped by the donation of prizes from local businesses Marta had approached for support. Prizes included Afternoon Tea at the five-star Prestonfield House Hotel and bottles of champagne.
In addition to the fundraising dinner, Marta also ran the London Marathon in April 2018 and cut off her long hair – all to support Phabkids.
On top of all this time being committed to raising money for Phabkids, Marta remained a full-time student who had a part-time job with events company Heritage Portfolio. Despite this, she still continued to submit a high quality of assessment work for college and also maintained excellent attendance.
She has also applied recently to be a member of another charity called Independent Age which helps elderly people who are feeling lonely. Her words on the application were "I would love to cook a Spanish omelet and talk with a person at least once a week to make him or her feel a bit better and less lonely," an amazingly warm gesture.
Edinburgh College Development Trust chair Dr Allan Colquhoun said: "We're thrilled to have presented Marta with the first ever Edinburgh College Development Trust Higher Education Student of the Year Award.
"Throughout her time at the college, Marta has gone above and beyond, doing truly inspirational work to help children and adults with disabilities.
"The Edinburgh College Development Trust exists to support students achieve their goals and the dedication and commitment shown by Marta epitomises what the trust is all about. We're all very proud of her and wish her the very best for the future."
Hospitality lecturer Victoria Anderson said: "Marta thoroughly deserves this award, not only for her charity work but also for her kind and considerate nature towards everyone around her. She always has something positive to say."
The next step for Marta in her Hospitality career is to work as a Supervisor for Heritage Portfolio at the forthcoming Lord High Commissionaire's Programme hosted by The Duke of Buccleuch at Holyrood Palace, a significant honour.