14 June 2019
Performing Arts Student Simone Wins at Prize Giving
Twenty-three-year-old NC Acting and Theatre Performance student Simone Martis flew across Europe from his home island of Sardinia in Italy to follow his dream of studying acting in Scotland. Simone is the winner of Karen Gillan Creative Industries Student of the Year award, and we caught up with him to find out about his experience at College.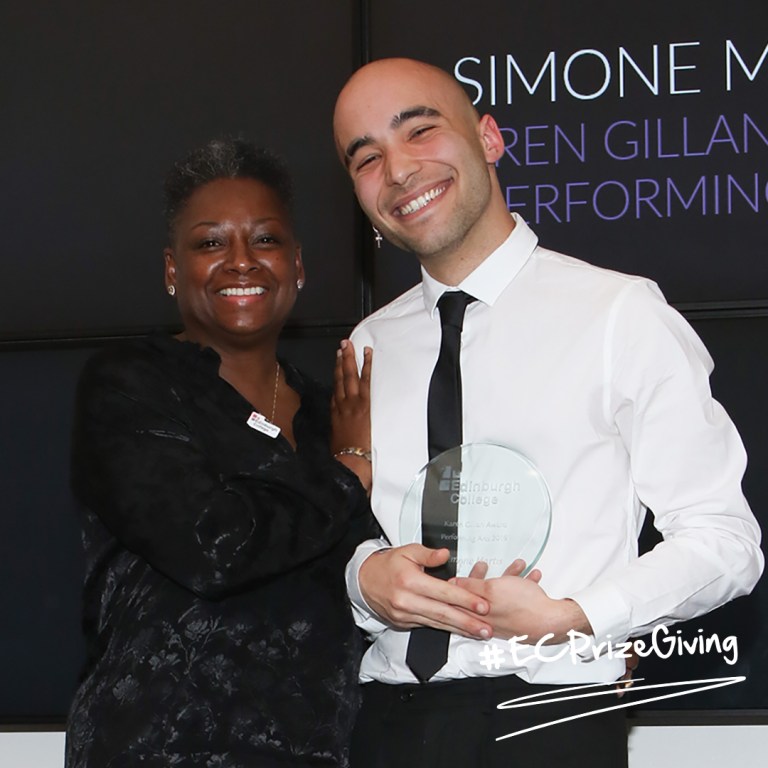 How do you feel about being recognised at Prize Giving?
I feel quite surprised to be honest. I'm proud and honoured to be given this award, I feel like all my hard work has been rewarded.
What made you choose Edinburgh College for your studies?
I had been wanting to move to Scotland to study acting for a while before this year, so after browsing some options I decided to apply to Edinburgh College.
What were you doing before starting at the College?
I was living in Florence and studying acting independently there.
What has been the best thing so far about studying at Edinburgh College? Any highlights?
I'd say there were many highlights throughout this year, and a lot has happened. I'm very lucky to be studying a course where my lecturers care so much about my progress, about who you are as a person and about giving you the best and most real experience.
Have you faced any challenges, either before starting or during your studies? How did you overcome them?
Everybody in life has to face challenges, some more than others. I can say that I definitely didn't always have it easy, especially after moving away from home four years ago. When I'm faced with a challenge I always try to analyse the situation and plan my next move but that's not always easy, especially when you're struggling. What I always tell myself, even in my darkest times, is to never give up – everything is temporary, all things pass and it will get better eventually, which is hard to believe but has always turned out to be true for me. At the end of the day, you've got to see the bigger picture.
If you could give one piece of advice to a student starting at the College now, what would it be?
I'd share a very good piece of advice I was given at the beginning of my studies – it's a quote by John Cage and Sister Corita Kent: "Find a place you trust and try trusting it for a while". This advice has worked just fine for me in the end.
What are your plans for the future? Are you going on to further study after college or into employment? What is your end goal?
I've been offered a place to continue studying at PASS, so I'll stay for another year or so to complete the HN course, and then we'll see where life takes me after that.
Do you have any messages for the lecturers?
I would like to say thank you for being so supportive, understanding and for always teaching me something new. You did such a good job and I feel very lucky to continue having the opportunity to work with you guys.
Looking back, is there anything you would do differently?
No, not really. I think at the end of the day we must embrace our mistakes and move on as that's the only way we can truly learn from them.
What are you most proud of that you have achieved while studying at Edinburgh College?
I think I've really flourished as an artist, I've learned so much and I think that's exactly what I needed. I'm most proud of how patient and understanding I have become and how much my knowledge of my craft has improved.
Describe your Edinburgh College experience in three words.
Wild, fun and insightful.