12 June 2018
Prize Giving 2018 - Morgan Main
Eighteen-year-old Morgan Main from Kirkliston, West Lothian, came to Edinburgh College to become a legal eagle – starting with the NC Legal Services course. Morgan is this year's winner of the Academic Excellence Business, Finance & Legal Services, picking up her award at the College's Prize Giving Ceremony held on Friday 8 June.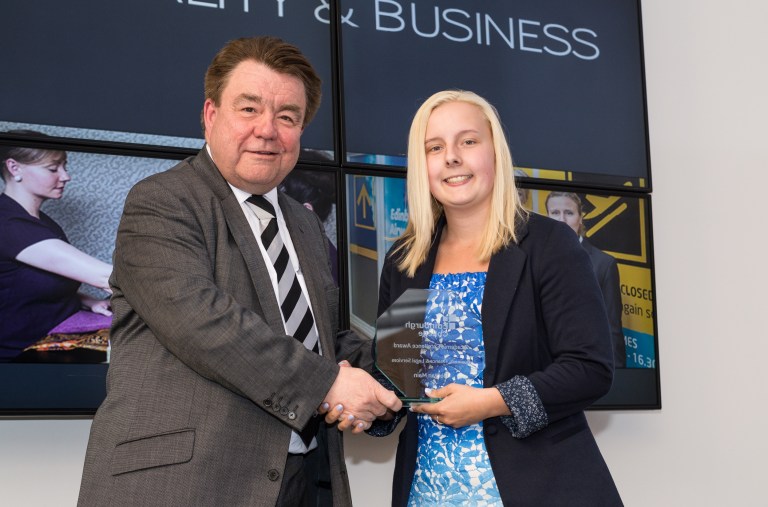 How do you feel about being recognised at Prize Giving?
I feel proud of myself, and that I achieved something on my own without anyone else. I feel all the hard work has paid off and people have recognised it.
What made you choose Edinburgh College for your studies?
I wasn't sure at first about what I wanted to do in life but when I read about the Legal Services course I felt like Edinburgh College was the right choice after discussions with family.
What were you doing before starting at the college?
I had just finished sixth year and came to Edinburgh College after summer.
What has been the best thing so far about studying at Edinburgh College? Any highlights?
Being awarded the Academic Excellence Award. Meeting new people and making friends was a highlight. I don't really open myself up to a lot of people but making the friends I have has made my college experience better and easier to get through.
Have you faced any challenges, either before starting or during your studies? How did you overcome them?
Confidence and believing in myself was a big challenge. I never had confidence in my academic ability. However, working hard and getting feedback from the lecturers and winning this award has given me great belief and confidence in myself.
If you could give one piece of advice to a student starting at the College now, what would it be?
Even when it's tough never give up, the hard work will pay off and you will see results. Make sure you dedicate time wisely between studying and giving yourself a break.
What are your plans for the future?
Over the summer I will be doing my student placement at Aberdein Considine, and then move onto the HND Legal Services in August with the end goal being becoming a paralegal and working in a law firm (hopefully still Aberdein Considine).
Do you have any messages for the lecturers?
Thanks for giving me your knowledge to allow me to learn about the law, allowing me to get a job in a law firm. Special thanks to Lynsay Magro and Sarah Lynch for nominating me for this award, it means a lot to me and I will forever be thankful. Thank you for your continued support throughout the year when times were tough you were both there to help me through. So, thank you!
Looking back, is there anything you would do differently?
Have more confidence in myself.
What are you most proud of that you have achieved while studying at Edinburgh College?
Winning this award. It's the biggest achievement of my life so far and has increased my confidence proving to myself that I am good enough. It proves that the motto I live by – 'never give up' – works and that I will never give up on my goals.
Describe your Edinburgh College experience in three words.
Interesting. Rewarding. Supportive.