14 June 2018
Zoe Designs Her Way to Top Prizes
Graphic Design student Zoe Leung is enjoying double success after being selected to design the artwork for a show in this summer's Fringe Festival and scooping a College award.
Twenty-six-year-old Zoe, from Glasgow, competed against fellow students in a design competition to win the opportunity to create the artwork for Propeller, a production by the Scottish Drama Training Network (SDTN) which will run at this year's festival.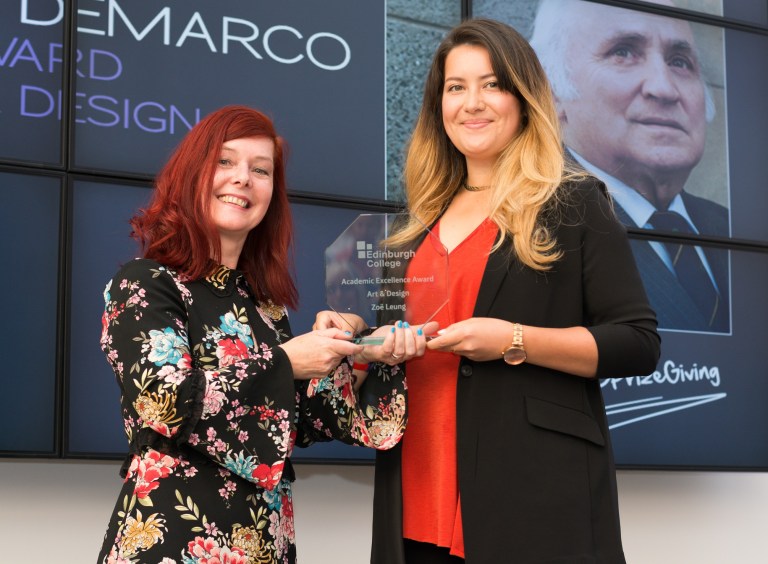 The One Day Project competition tasked students with developing a design concept for the show and pitching their ideas to the SDTN, all in the same day. The prize was to win a paid job, designing all of the artwork and promotional materials for the Fringe show.
"Having the opportunity to pitch my design and being selected as the winner has definitely been a highlight of my time on the course. It has been a valuable learning experience for me, the time pressure of the project was challenging but ultimately rewarding – it was great to win. My artwork has been published on the Fringe Festival website and I'm currently working on the final poster."
Zoe, the recipient of this year's Prize Giving Academic Excellence Award Art and Design, was working in scientific research and safety testing before choosing to come to college to study NC Graphic Design after hearing about the good reputation of the Graphic Design department.
"The lecturers are so inspiring and are always helpful. I'd like to thank them for running a course that is very well informed and fast paced. I'm pleased to have won the Prize Giving award– it's good to know that my hard work has been recognised. During projects I sometimes hit a creative block but manage to overcome this by taking a step back and discussing the project with my classmates to help spark inspiration. I've got confidence in my creative thinking and have a fearless attitude towards learning new things."
Zoe is enrolled to begin the college's HND Graphic Design course in August, describing her Edinburgh College experience in three words she said: "Not over yet."