14 November 2018
Awards Ceremony Awaits Edinburgh College Foundation Apprentice
An Edinburgh College Accounting student is hoping to calculate his way to award success as he goes up against fellow students at the Scottish Apprenticeship Awards 2018.
Nineteen-year-old Junjie Xu, who studied a Financial Services Foundation Apprenticeship at Edinburgh College before progressing onto their HND Accounting course, has been shortlisted for Foundation Apprentice of the Year at the annual awards, for his achievements while studying at the College and working with the Financial Services team at Virgin Money.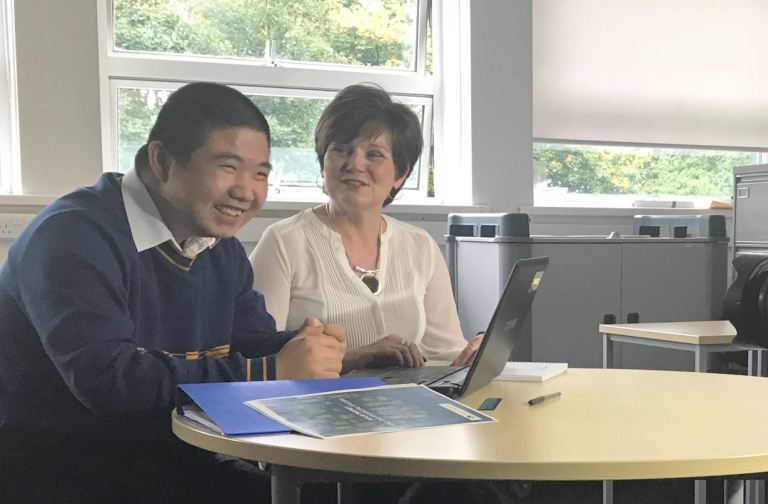 Junjie, who is partially sighted, doesn't let his visual impairment affect his learning or willingness to succeed and embarked upon his Foundation Apprenticeship while studying at the Royal Blind School for Visually Impaired and Blind Children.
During his time at Edinburgh College and on work experience, he demonstrated excellent interpersonal skills which enabled him to integrate well with other students on the course and with colleagues from his placement provider.
As part of his apprenticeship, Junjie attended classes at the College's Sighthill Campus for two days a week, before undertaking a three-week work placement.
While at Virgin Money, Junjie was tasked with designing a current account for teenagers capable of competing against similar products offered by other banks. Junjie had to research and fully understand industry regulations before presenting his proposal to his colleagues.
Line Manager Sean Brown from Virgin Money said: "It was a real pleasure having Junjie at Virgin Money for his work placement during his Foundation Apprenticeship. Junjie demonstrated energy, passion and commitment and always thought about how his work would benefit the customer. He thoroughly deserves this recognition and we wish him all the best on the night and in the future."
Edinburgh College lecturer Sandra Morrison said: "Junjie always takes on new challenges with absolute enthusiasm and doesn't allow his visual impairment to hold him back. He is a great example of how a positive attitude to life can lead to success."
Junjie said: "When I heard that I was a finalist, it felt great! All of the hard work that I put into achieving the award has paid off and I have overcome some difficult challenges."
A Foundation Apprenticeship is an initiative, providing new, work-based learning opportunities for S5 and S6 learners. Learners work towards a Foundation Apprenticeship alongside their other subjects and also spend part of the school week at College or with a local employer.
Junjie will find out whether School + College + Work Experience = Award Success at the Scottish Apprenticeship Awards 2018 which are happening on Thursday 15 November 2018 at Perth Concert Hall.