25 November 2021
Positive Thinking and Drive to Succeed Sees Chelsea Achieve Her Dream
"I always try to think positive and push myself." Those words really stuck when speaking to HND Beauty Therapy student Chelsea Henderson.
Chelsea, 26, is in the second year of her HND course having started at Level 1 five years ago in 2016.
Chelsea left Craigroyston Community High School aged 16 with little qualifications, and with becoming a Mum to a baby boy, she thought that her chance of making herself a career in Beauty Therapy – something she always had a passion for – would pass her by.
But Chelsea stayed determined and didn't give up on her dream of becoming a fully qualified therapist. In 2016 she enrolled on a Level 1 course which introduced her to Beauty and allowed her to progress through the College.
"Without that course, I would not be here completing my HND. It really gave me the chance to get into Beauty Therapy. It feels like it was fate that the course started and I could follow my dream."
Chelsea went on to complete her Level 1 and 2 Beauty Therapy courses before taking a break from study to have her daughter, before coming back to do her NC and HND 1 during the COVID-19 pandemic.
Like everyone, the pandemic hit Chelsea hard. Looking after two children, running a home and adapting to online learning would be a lot for anyone to juggle. On top of that, Chelsea learned she had dyslexia, something which she had unknowingly battled for a long time, and she sadly lost her Nana – who had been a rock in her life.
"It was a terrible time. Of course, the pandemic was tough. I was at the point of my learning where I started writing essays for coursework, which was totally new to me having left school at a young age. When I learned of the dyslexia, it was difficult because all learning and support that I needed was online and done remotely, which was tough.
"Then losing Nana was extremely difficult and heart-breaking. My Nana was like my Mum and I relied on her a lot. But I know that she would not want me to give in when things got tough, and I promised her I would complete my HND and become a Beauty Therapist."
Chelsea is well on her way to keeping that promise to her Nana. She is midway through her second year of her HND and is already looking to what comes next.
"Once I qualify and graduate, I want to go straight into the industry to gain more experience and build on what I've learned so far. I want to go into a spa setting as I'm passionate about massage, facials, holistic healing and positive energy. And one day, I would love to open my own spa.
"Right now, that seems like a million miles away, but when I was 16, I never thought I would be able to become a Beauty Therapist having left school with nothing. And when people from outside put negative thoughts in your mind – like they did to me – you start to believe it. But I stayed strong. I always try to think positive and push myself – and now here I am.
"Anyone can do it. College is for everyone."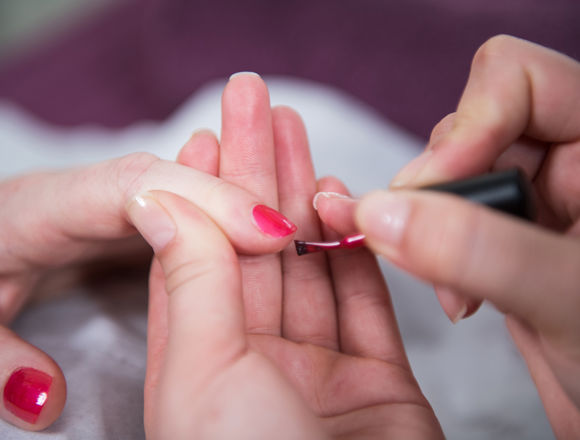 Hairdressing and Beauty Courses
If you've been inspired by this story and aspire to work in the beauty industry like Chelsea, discover our courses in Hairdressing and Beauty. 
Hairdressing and Beauty