03 October 2019
College Helps Natalie Design the Future She Wants
Thirty-five-year-old student Natalie Loh (pictured right) attended Edinburgh College after deciding she wanted to start a new chapter in her life and change career paths.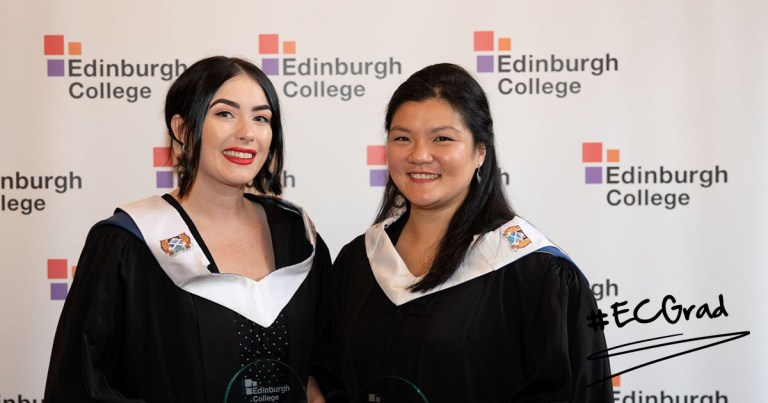 After previously spending ten years working as a veterinarian, Natalie came to College to get the qualifications and experience needed to forge a new career in the design industry.
Natalie graduates with an HND in Graphic Design, as well as picking up the Principal's Award for Academic Excellence in Creative Industries, which is awarded to the student who has stood out among their peer group as a role model, not only achieving themselves but supporting others to do so and adding to the overall class experience.
Natalie said: "It feels like such a great accomplishment to be graduating and I'm excited that a new chapter is beginning.
"It took a lot of courage for me to take the decision to make the jump and change what I was doing. Doubt nearly stopped me in my tracks and it was scary thinking about going from a job I knew so well into a completely different industry. I'd like to say it was an easy decision, but it all boiled down to asking myself if I would regret not making the change. I had to work hard and trust it would work out.
"Looking back there's been many highlights of my time at College, but I would have to say speaking at the TEDx Youth Conference in Glasgow and being part of the Daydream Believers Schools Project were particularly memorable.
"Words can't express how thankful I am to my lecturers. Changing careers is a huge step and I'm really grateful for their guidance and support. They are inspiring and amazing lecturers and have been there for me all along the way."