12 June 2018
Lauren Shows She Has the Cutting Edge
Granton Campus student Lauren Mason has won this year's Barbering Student of the Year Award, collecting the accolade at the college's annual Prize Giving Ceremony on Friday 8 June.
Mother-of-two Lauren started college in 2016 and leaves having successfully completed the Level 3 NVQ Diploma in Barbering. She is now ready to work in an industry she loves.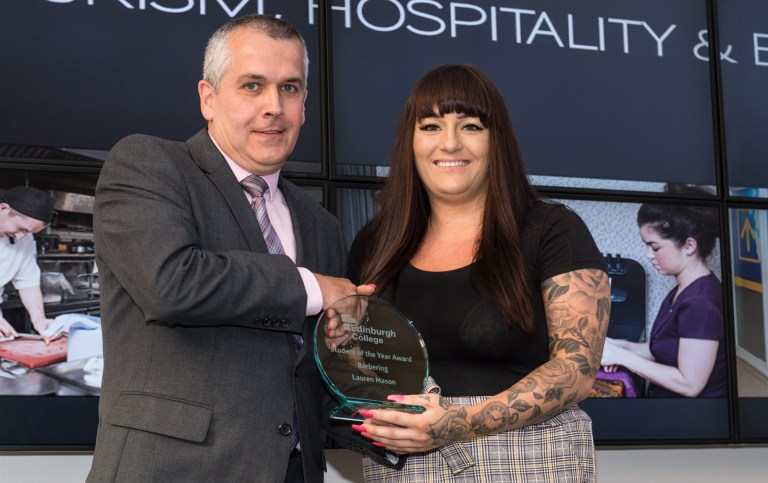 "It's an honour to have won the Barbering Student of the Year Award. I was so surprised but I'm also so happy.
"I was always interested in hairdressing from when I was young, but when I learned about the barbering course I knew that it was the right one for me.
"Barbering is definitely a growing industry. There are new shops popping up everywhere so it's a really exciting time to be qualifying. Hopefully, one day I'll have my own barbershop."
Before joining the College's barbershop training salon, Lauren was a full-time mum bringing up her two children. Despite the challenges of juggling family life and college education, she says she would encourage any parents thinking of going back into education to go for it.
"It is tricky and can be stressful but there is lots of support out there to help parents like me manage to come to college and support my children – not least from the College and the lecturers.
"Whenever I had to take time to look after my kids, my tutors were so accommodating and did everything they could do ensure that I was supported and that I didn't fall behind – I can't thank them enough.
"There's also lots of support where childcare is concerned. Anyone who is in a similar position to me definitely shouldn't be put off – there is lots of help available.
"As well as all that, I've made lots of new friends at the College that will now be my friends for life – it really has been such an amazing experience."
Hairdressing and Barbering lecturer Claire Duncan said: "Lauren has been a fantastic student over the past two years. She has gained so much confidence in her team here, showing a particular flair for hot towel shaving.
"Her determination and focus to finish the course despite having the pressures of looking after a young family has been amazing. She's been a real asset to the Level 3 Barbering class this year and has even spent time helping her fellow students with coursework – a lovely student who will be missed at the College."
Lauren described her time at Edinburgh College as "rewarding, life-changing and fun".