05 June 2020
Edinburgh College Student Wins Competition to Design Website for Students Moving Between College and University
An Edinburgh College Graphic Design student has won a competition to design a new website which will provide a single source of information for those moving from college to university.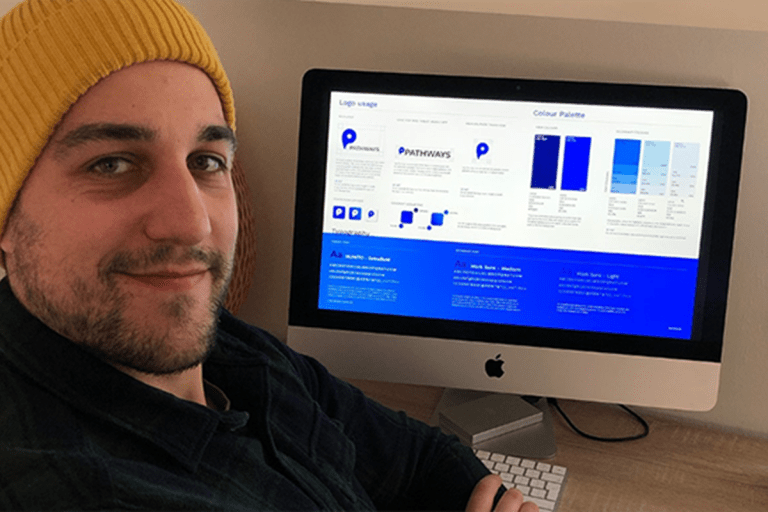 Balasz Hirst, HND Visual Communication: Graphic Design student, is pictured in front of his 'Pathways' winning website design.
HND Visual Communication: Graphic Design student Balasz Hirst has won a competition to design the website for 'Pathways' – a new 'one-stop shop' of information for students taking steps from Higher National Certificate and Diploma courses onto University.
There are many pathways and routes of study from Higher National Certificate and Diploma to University, and advertising, promotion and understanding of routes is often complex and difficult for pupils, students and advisers to find and navigate.
The website, which will be fully mobile friendly, will play a vital role in making things clearer for all. 
Currently in testing, the new website is the result of a partnership between colleges and universities in the Edinburgh, Fife, Lothian, Borders, Falkirk and Stirling areas.
As one of the main target group of users, students from a number of colleges and universities took part in a competition at the start of March to create the design for the website. A cash prize of £250 was also offered for the winning student.
The competition was judged by a panel of representatives from the contributing institutions with Balasz's design coming out on top.   
Balasz's designs will be showcased publicly for the first time later this month at the College Development Network's Virtual Expo 2020 as the four primary development partners – Edinburgh College, Fife College, Edinburgh Napier University and Queen Margaret University – deliver a workshop on the new website to sector colleagues.
Colleges and Universities involved in the Pathways website project include:
Fife College
Borders College
Edinburgh College
Forth Valley College
Newbattle Abbey College
West Lothian College
Edinburgh Napier University
Heriot Watt University
Open University
Queen Margaret University
University of Edinburgh
Scotland's Rural University College (SRUC)
University of St Andrews
University of Stirling 
Participating on the judging panel was a great privilege and an enjoyable experience to view the ideas behind all the submitted design entries. I am very pleased the panel agreed on the Pathways design submitted by Balasz and on behalf of the judging panel congratulate him on his win.
Jon Buglass, Vice Principal at Edinburgh College
Competition entries were received from students across a number of partner institutions. Although the quality of submissions was extremely high, which made the challenge for the judges very difficult, Balasz's design was fantastic and he is a much a deserving winner. We look forward to seeing Balasz's design on the final website which we hope will play a key role in making the wide variety of articulation pathways available between colleges and universities easier to understand and navigate for everyone.
Iain Hawker, Assistant Principal at Fife College