29 November 2018
Graphic Design Students Dreaming Of Further Award Success
An Edinburgh College pair will go head to head with finalists at an awards ceremony celebrating the achievements of outstanding young people across Scotland.
Edinburgh College HND Graphic Design graduates Niamh Curran and Holly McNie have been shortlisted in the Enhancing Education category at the Young Scot Awards 2018 for their Daydream Believers project.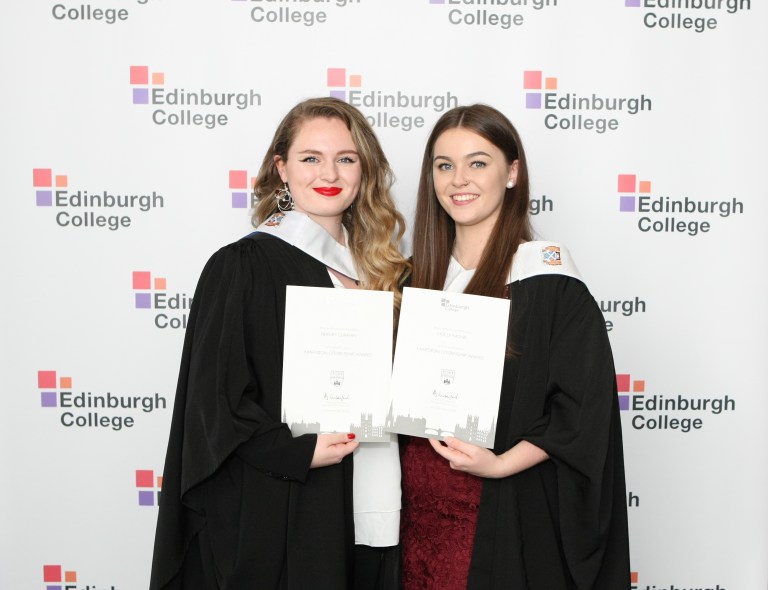 Throughout their time at the College, the students have embraced the themes of the Year of the Young People and worked tirelessly to enhance the education of young people across Edinburgh and the Lothians.
In April 2017, Niamh and Holly set up a project which encourages school pupils to unshackle their imaginations and explore creative careers. The project involved visiting schools to work with S3 pupils and sharing their creative and educational experiences.
In year one, the project saw the two student ambassadors visit six schools across Edinburgh to inspire the next generation of creatives. By working with pupils on their creative ability and promoting college as a great option for studying, they inspired young people to get the best out of their talents and start thinking about the best future study options available to them.
Niamh and Holly's drive to inspire and educate as many young people as possible about the creative industry led to the rapid growth of their pet project. In 2017/18, the project expanded and became Daydream Believers, with 21 schools receiving workshops. The young women mentored six new ambassadors, using their enthusiasm for graphic design and passion for inspiring young people to support the students in delivering an effective programme.
Niamh and Holly have been instrumental in shaping the development of the programme which incorporates the Graphic Design Ambassadors project, an online design project for pupils and teachers, continuing professional development training for teachers and a one-week Day Dream Believers course for S2 and S3 pupils.
Niamh said: "I am absolutely thrilled that we've been nominated. It's such a great award and an honour to be considered. This a great way for us to share our story and give us an excuse to spread the word further about the Daydream Believers project."
Holly said: "I am both delighted and surprised that we have been nominated. Niamh and I started this because of our own personal experiences. We saw a gap in the system that we wanted to help others overcome, never in a million years did we think that would have triggered the success that we've had with the Ambassadors project."
Lecturer Helena Good said: "Holly and Niamh are the original Daydream Believers. They wanted to share their insights and skills with pupils in secondary schools across Scotland. Their energy and enthusiasm inspired us all and helped to shape a programme that has exceeded all of our dreams!"
For more information about the project, visit the Daydream Believers website.