12 June 2018
Prize Giving 2018 - Julia Rey Tapia
Julia Rey is 24 years old and originally comes from Malaga in Spain. Her passion has always been in food and hospitality so Julia came to Edinburgh College to study SVQ Level 3 Patisserie and Confectionery. On Friday, Julia will collect the Neil Forbes Award for Professional Cookery at the College's annual Prize Giving Ceremony. We caught up with Julia about her college experience.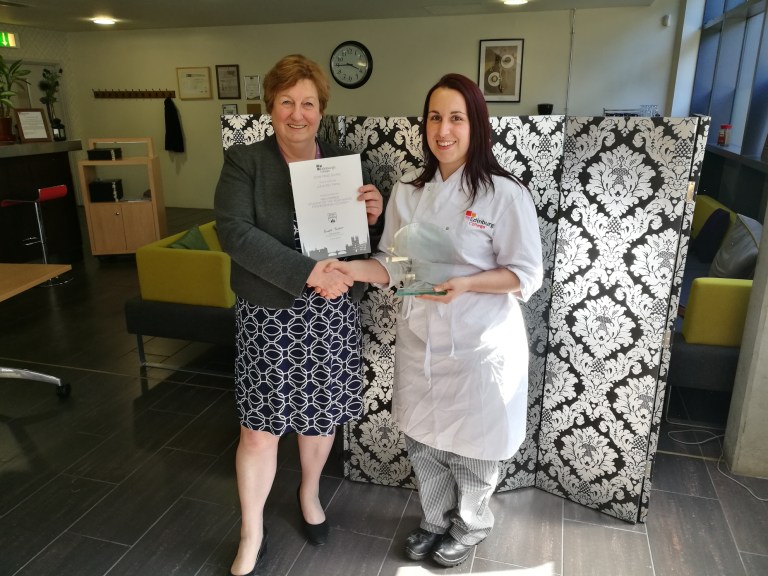 How do you feel about being recognised at Prize Giving?
Shocked. I didn't expect to be awarded.
What made you choose Edinburgh College for your studies?
I came to Edinburgh three years ago and I started looking for pastry courses. I soon realised that the one in Edinburgh College had lots of things I was interested in.
What were you doing before starting at the College?
I worked as a waitress.
What has been the best thing so far about studying at Edinburgh College? Any highlights?
Everything that I learned. My lecturer Boyd Stewart and Learning and Development Tutor (LDT) Tracey Livingstone have been a really important part of my journey through college. As well as the friends that I made while I was here.
Have you faced any challenges, either before starting or during your studies? How did you overcome them?
My main challenge was coming to another country, with another language and culture and being able to work, study and gain good marks.
If you could give one piece of advice to a student starting at the college now, what would it be?
If you really like what you are doing just put all your effort into it because at the end you are going to be proud of yourself and it'll be rewarded.
What are your plans for the future?
I'm not going on to further study right now – maybe in the future. Right now, I want to spend some time working and gaining experience. Also, I would like to travel and learn more about food in other countries.
Do you have any messages for the lecturers?
I would like to thank all my lectures from Level 2 and 3 of Professional Cookery and Patisserie because I've learned lots of valuable lessons from all of them. I would like to give a special mention to Boyd Stewart because he's been a really good lecturer with lots of passion and really good advice.
Looking back, is there anything you would do differently?
I think I really like how I did it but maybe be more consistent in my studies and put more effort into everything.
What are you most proud of that you have achieved while studying at Edinburgh College?
The thing that I'm most proud of is that I found a career that I love and I'm good at.
Describe your Edinburgh College experience in three words.
Food, art and friends.