10 June 2020
Career Change for Louis Thanks to Edinburgh College Experience
Twenty-nine-year-old Louis Chalmers came to Edinburgh College so he could get the skills and knowledge he needed to swap working in Social Care for a career in the Fitness industry. And after one year, Louis has been awarded the Club Student of the Year for Sport and Fitness.
We spoke to Lewis to find out more about his College experience and his plans for the future.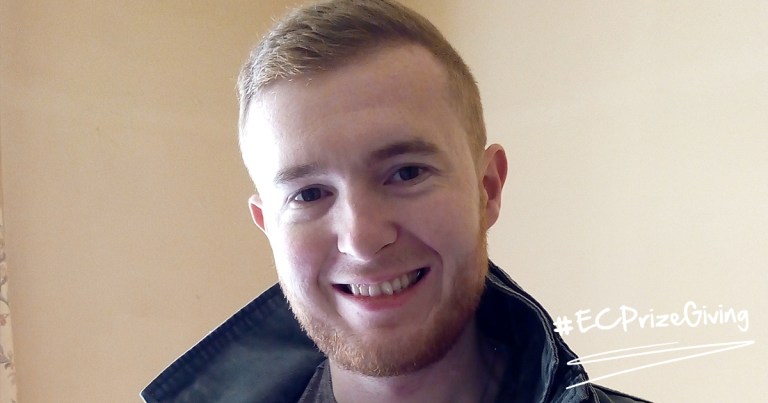 "I am feeling very happy and excited about being given this award – I feel very honoured and proud of myself for being recognised in this way.
I chose to study at Edinburgh College for many reasons. The College had the course I was looking for and I had heard very positive feedback about the College in general, and the tutors, from a few of my friends who had previously studied there.
Prior to studying at Edinburgh College, I was in the process of training for my job as a support worker/personal assistant for a social care organisation which helps vulnerable adults.
Throughout my time studying at Edinburgh College, the thing that I have enjoyed the most is learning new skills, expanding my knowledge and growing in confidence – this will all help me progress with my career.
I struggled with my confidence at the beginning of the semester which at one point I thought was going to prevent me from accomplishing much. I struggled a lot with my mental health at times which made me doubt myself. However, I was determined not to give up, so I overcame these challenges by asking for support and guidance from my tutors. Also, I had to push myself out of my comfort zone and as a result of this, my mental health and my self-confidence saw a lot of improvement and positivity.
If I was to give advice to a student starting now I would say this, never give up. No matter how challenging or tough it may be, you will get through it. Remember to stay focused, and always be the hardest worker in the room. Do not be afraid to ask for help too.
At present, I am hoping to progress on to year three of my Fitness studies upon completion of my current course. Fitness is a big part of my life so I would like the opportunity to gain employment in the fitness industry whether that would be as an instructor or a personal trainer.
My lifelong ambition since I was a kid was to become a firefighter and it still is even now so I guess I will just need to see what the future holds."