10 November 2023
#ECGrad - Recipe for success - Chef Simon graduates after five-year College journey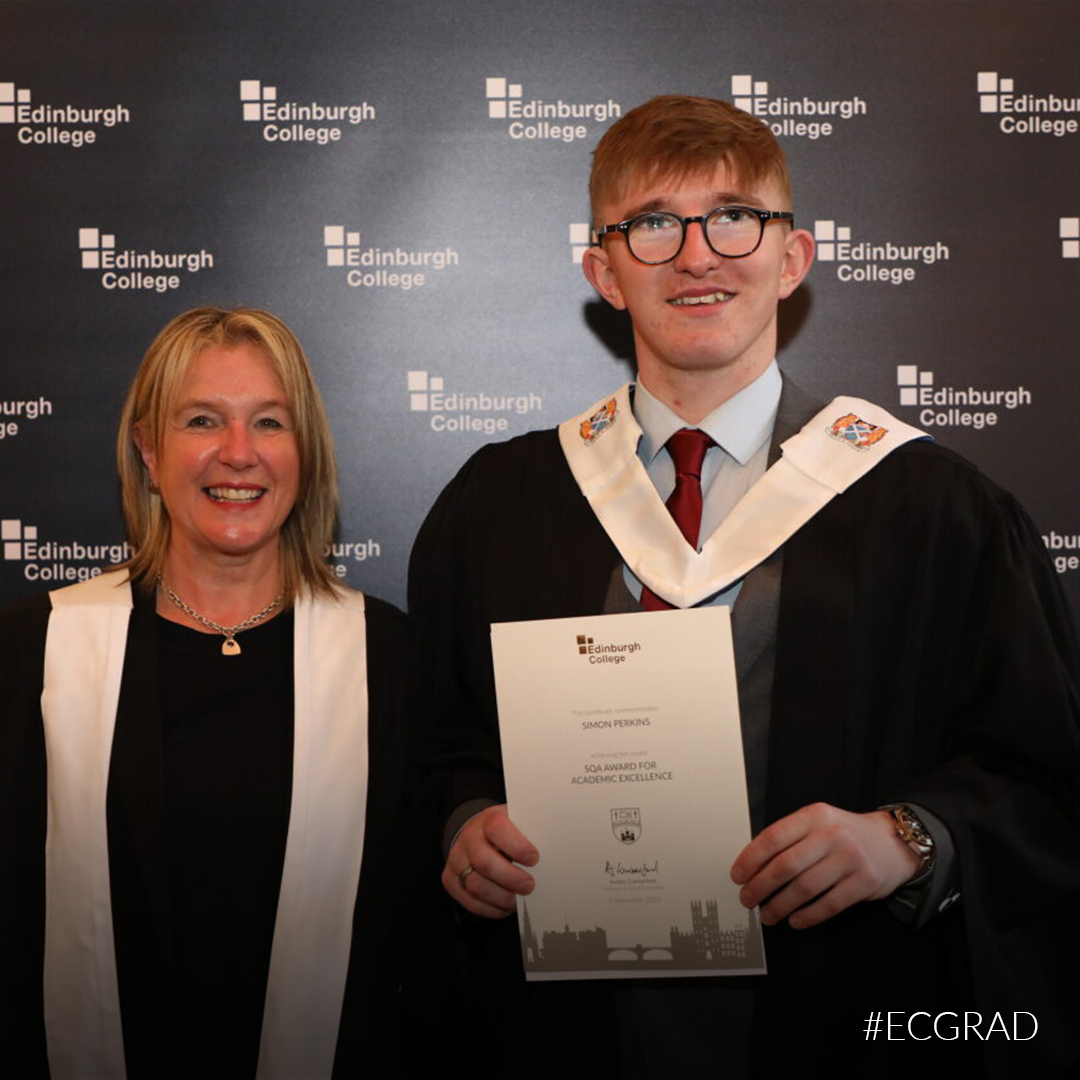 Simon Perkins started his Edinburgh College journey as a fifteen-year-old school pupil studying NPA Professional Cookery as part of a schools college partnership (SCP) programme. Since then, Simon has worked his way up through City and Guilds Levels 1 and 2, Level 3 Professional Cookery and, finally, Level 7 Patisserie and Confectionery.
Now 20-years-old, Simon leaves the College as a graduate and a prize winner having won the SQA Academic Excellence Award for his outstanding achievements throughout his studies.
Simon has reflected on his time at Edinburgh College in this Q&A:
How do you feel about Graduating?
I feel proud and honoured to be graduating from a place that has played a big part in my life.
What made you choose Edinburgh College for your studies?
I chose Edinburgh College to follow a dream I didn't know I had, and to take my learning to the next level.
What has been the best thing about studying at Edinburgh College? Any highlights?
The best thing about studying at Edinburgh College has been having the chance to make good connections with lecturers and students and being allowed to have the right balance of freedom with the work at hand.
Also, getting opportunities to work away from the College doing events at places like Prestonfield House Hotel or Tynecastle Stadium, and the trips away to Dinard in France which gave us a taste of French cuisine.
Have you faced any challenges, either before starting or during your studies? How did you overcome them?
Difficulties definitely arrived during City and Guilds Level 2 when COVID-19 struck, but by being patient with a lot of online learning it we all got through it.
Do you have any messages for the lecturers?
The Lecturers have been brilliant along my journey at College and I've built great connections with most. They are some of the most hard-working people I have ever met and for sure have inspired me through the years at the College.
I am delighted but also sad that my journey has come to the end at Edinburgh College.